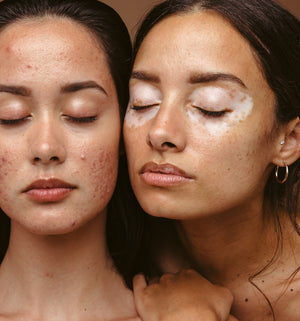 Acne Scar Removal
Multitude of options for all skin types
What is acne Scar Removal?
If you are looking for scarring treatment in Manchester, look no further as KLNIK has one of the largest variety of acne scar removal treatments in the North West. From Cannular subcision to ResurFX Laser there is a treatment suitable for all types of acne scarring.
Types of Acne Scarring treated at KLNIK.
-Recent acne marks (pink or brown in colour)
-Rolling scars
-Hypertrophic scars
-Ice Pick Scars
-Tethered scars
There are several acne scar removal treatments available at KLNIK's. At your consultation your aesthetician can help guide you to create the best combination to match your condition. 
LED dermal light treatment
LED Light
The Dermalux LED light treatment offers a pain-free and effective way to achieve flawless, youthful and healthy skin. After just one treatment skin is radiant and any redness and irritation is calmed. Results of light therapy can be enhanced when used in combination with many other skin treatments such as Microdermabrasion, Skin Peels, PRP, Subcision and Laser.
Dermalux uses colour wavelengths of visible light that stimulate specific responses in the skin. Red light offers amazing anti-ageing, anti-inflammatory and healing benefits, supporting the growth of new collagen. Whilst the antibacterial action of blue light is proven to be extremely effective in the treatment of acne and troublesome breakouts.
Laser scar removal
IPL M22
KLNIK offers the latest in technology with the Lumenis M22 gold standard in IPL photo rejuvenation. Recent acne scarring can leave post-inflammatory hyperpigmentation which can be distressing and take months or even years to fade. The M22 technology is targeted at redness reduction, pigmentation removal and vessels reduction. With the variety of wavelengths, we have available at KLNIK our aestheticians have the ability to customise your treatment to suit your needs. Whilst improving the tone and discolouration and scar lightening. The M22 IPL acne scar removal will also improve the superficial texture by tightening pores and stimulating collagen to reduce the appearance of lighter indentations created by scarring.
ResurFX Laser
Acne scar removal using laser technology is an excellent solution for those suffering with ice-pick and rolling scarring that have been left with indentations and unevenness on the skin. ResurFX is a not ablative fractional laser, meaning less down time than ablative lasers such as CO2 or Fraxel. Stimulating collagen and tightening the underlying skin cells, here at KLNIK Manchester we can achieve fantastic results on stretch marks, acne marks, fine lines and wrinkles.
ResurFX goes hand in hand with Canula subcision and filler for deeper acne scars available with Dr Rosh.
Acu Pulse Laser
The Lumenis CO2 ablative technology dramatically decrease scars, including stubborn ice pick and rolling scars, helping to repair damaged skin and improve skin tone.
The AcuPulse at KLNIK allows for advanced treatment of a variety of severely damaged skin lesions which require synergistic coagulation and ablation for advanced resurfacing. Results are seen from just one session! Acu Pulse is conducted by medical professionals.
Following the procedure, down time will be 1 week and some skin prep products may be needed, which will be discussed at the consultation. If you are looking for faster results for your acne scarring Acu Pulse laser resurfacing is a great alternative to longer drawn out treatment programmes. It can also be supported by other treatments such as Canula subcision and filler with Dr Rosh.
Cannula subcisson
Cannula Subcision with Dr Rosh
This is a minor surgical procedure carried out on tethered deeper acne scarring. Cannula subcision is best for small areas such as acne scarring. A small hole is made in the skin with a needle. Followed then by a cannula just below the skin. The cannula is used to separate the bands of scar tissue that are pulling the scar down. This releases the indentation and allows the surface of the skin more movement.
At KLNIK we have a variety of cannulas of different sizes and lengths, Doctor Rosh will choose the most appropriate for your scarring. Cannulas are relatively blunt, so they are the prefered choice over a needle as they are less likely to damage blood vessels and nerves which would also lead to bruising.
Benefits: What is Acne Scar Removal?
At KLNIK Manchester we have a variety of options for acne scar removal to help you achieve smoother looking skin. 
From laser to PRP the options are endless to revitalise and regenerate your scarring, we can accommodate all skin types and ages and all types of acne scarring. Dr Rosh and our skin specialists will help you in deciding the best combination of treatments to suit your needs. The benefits are endless and include:
- Improved skin tone and texture
- Remove discolouration
- Minimize appearance of scarring
- Boost collagen
- Resurface your skin
- Remove redness and blood vessels
- Clean and revitalize your skin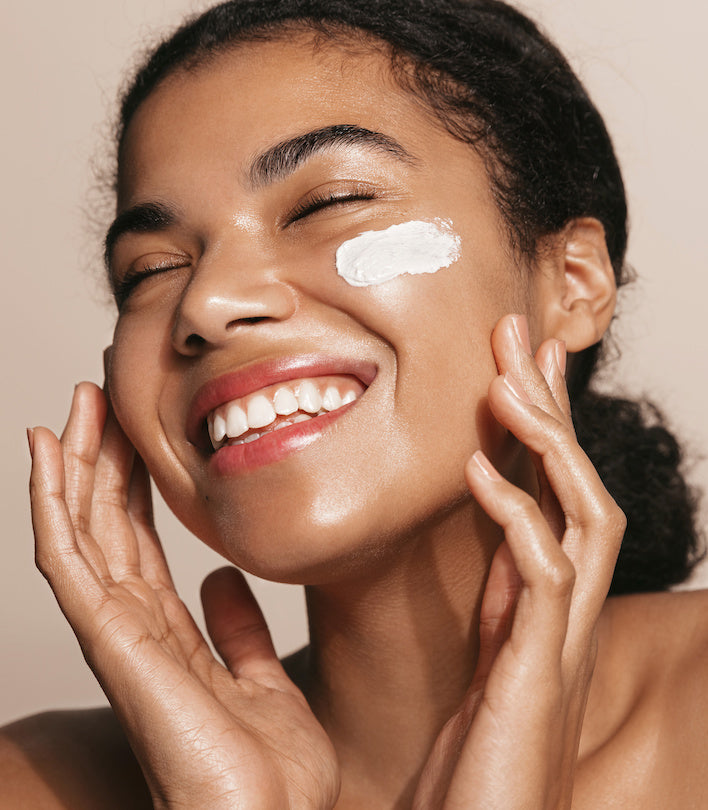 Acne scarring treatment
Before and After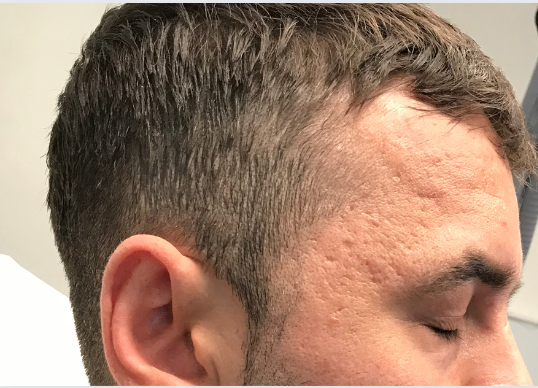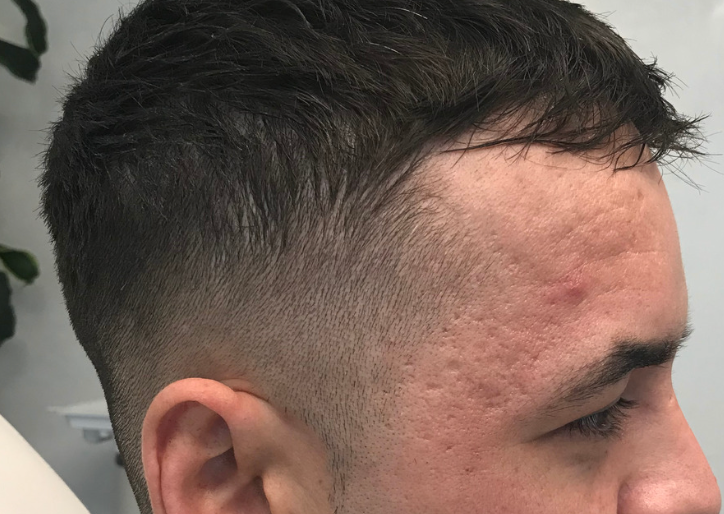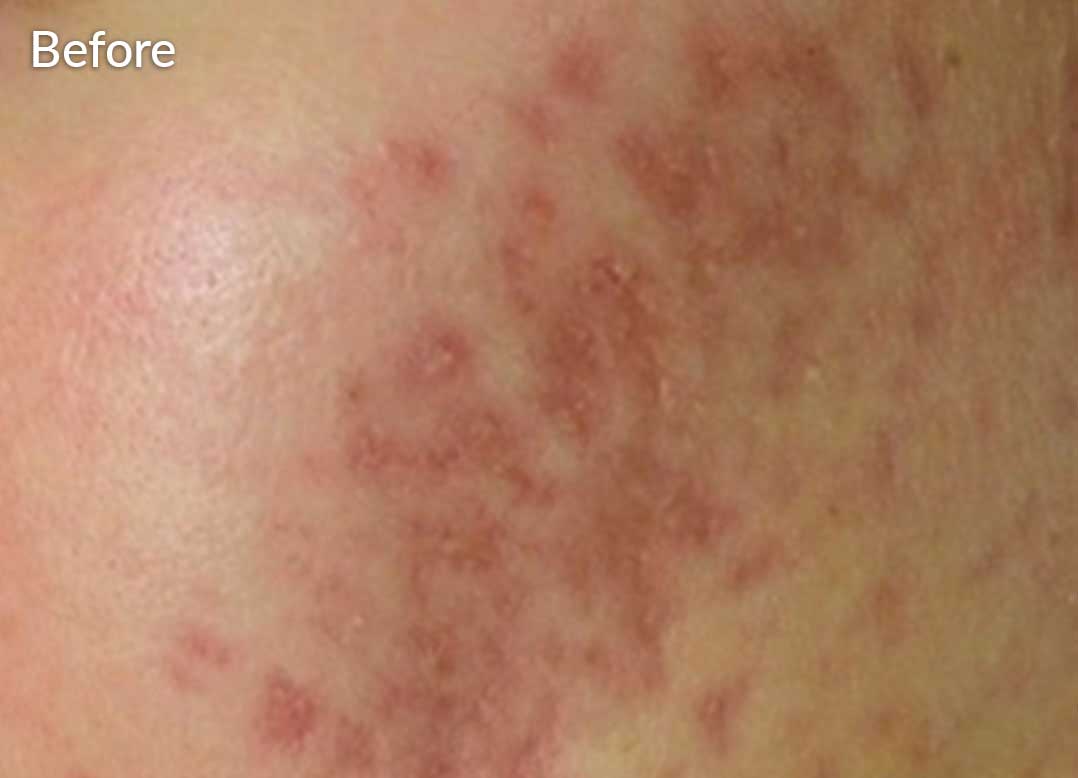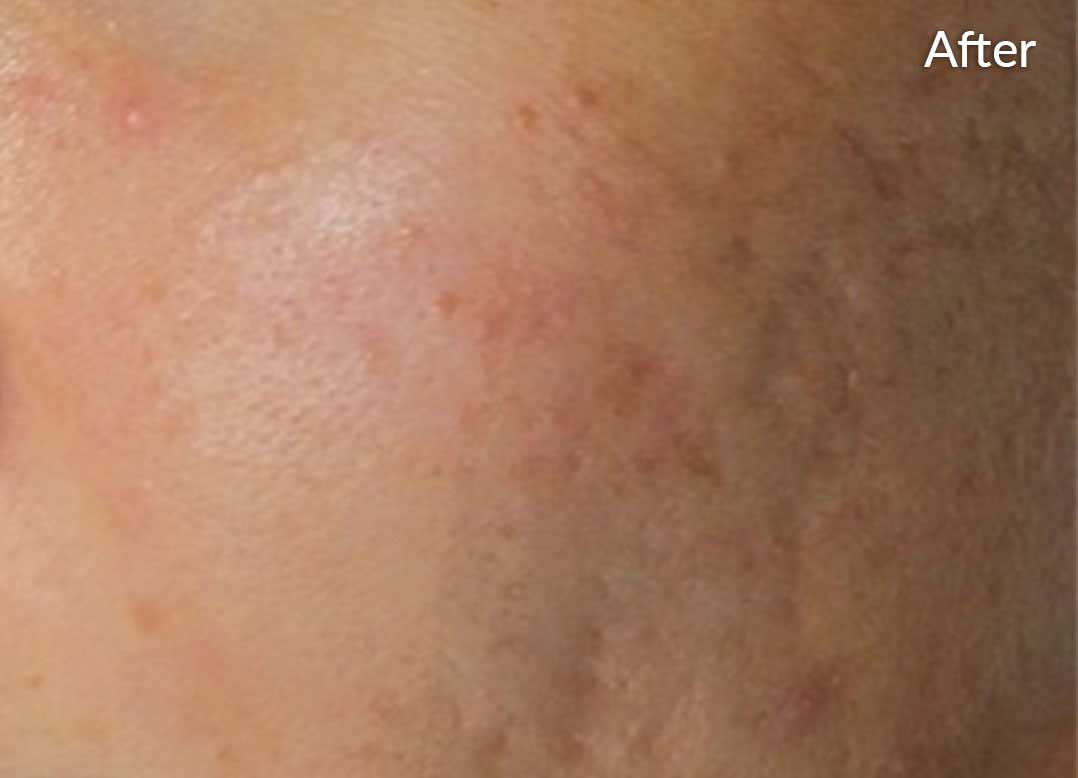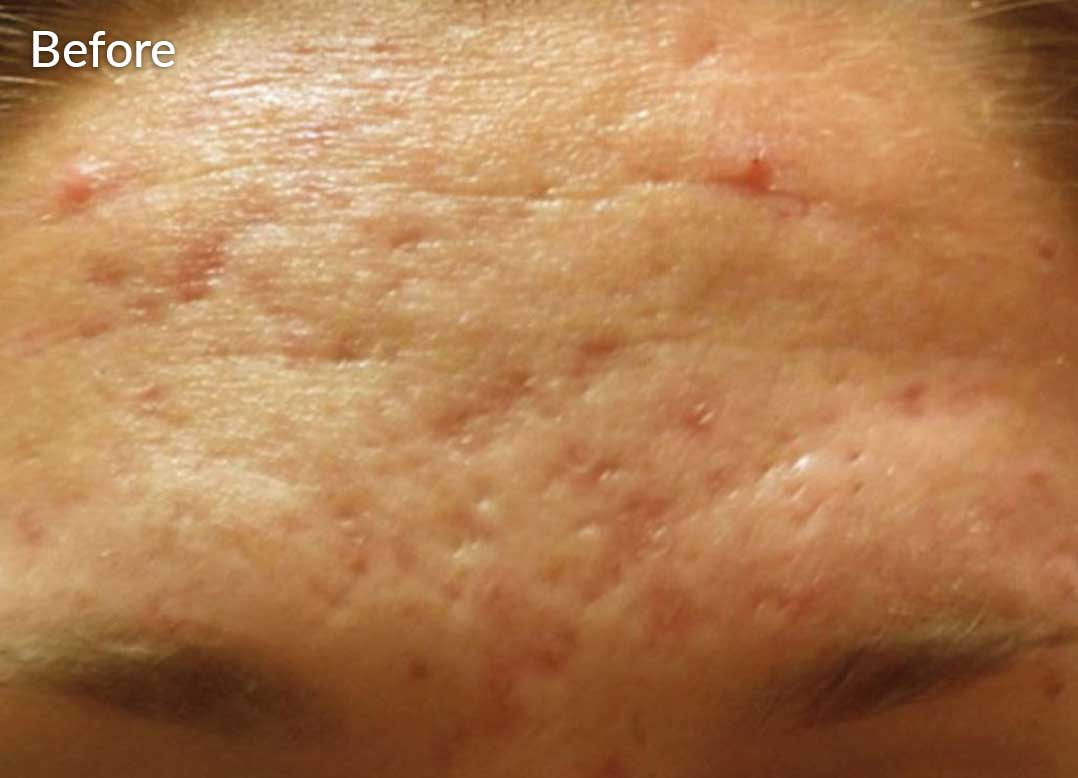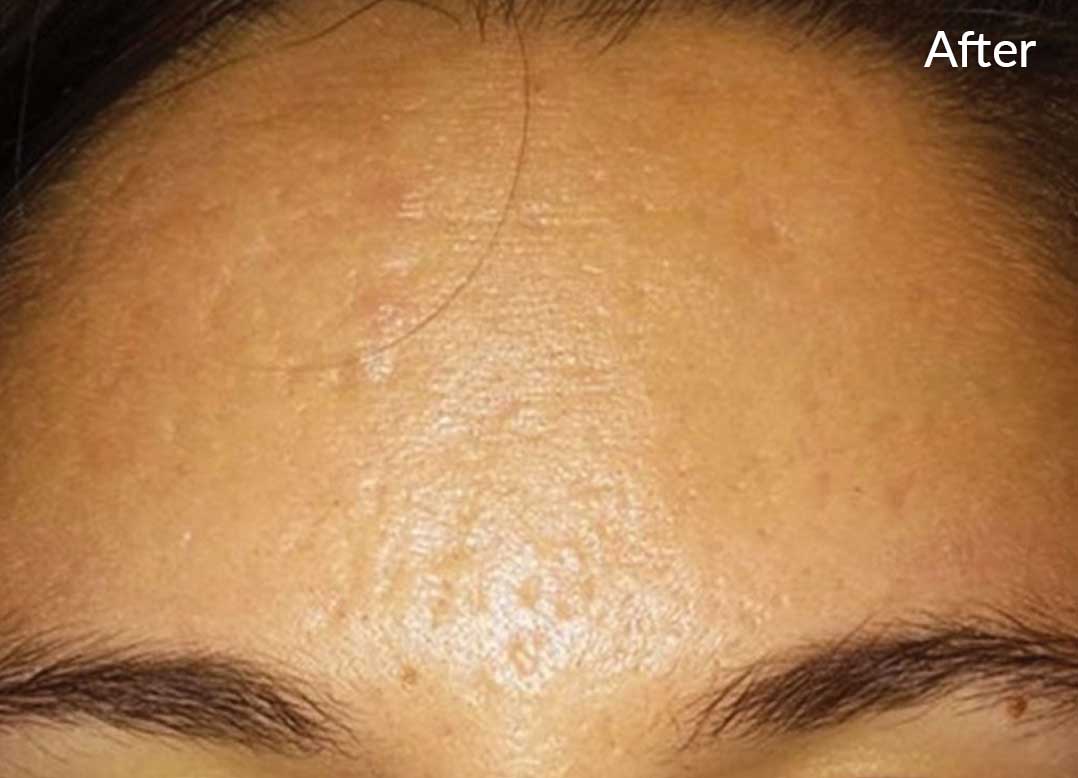 "Acne scarring is not solved by the high street package deals. It needs a medical consult with ensuing bespoke treatment plan. At Klnik we have a wealth of devices that can help combat your scarring whether that is the combination of laser and PRP, facial courses, skin care or cannula subcision with filler just to name a few. We are a place you can trust for effective results"
Dr. Rosh
As seen in
Frequently Asked Questions
This is dependant on the treatment. Laser ResurFX will leave swelling and redness for at least 3 days, where as LED light has no downtime. We will create a tailored treatment plan to suit your lifestyle and type of scarring.

Skin tone will be the fastest to improve and you may see results within a few weeks after the procedure. Acne scarring treatment is rebuilding collagen, this is very slow process and the treatment has to kick start the body in to regenerating the skin. It can take a few months to begin seeing results, they will continue to improve for a year. Instant results can be seen from subcision with Dr Rosh, as this can include filler, which will provide instantly smoother skin.

KLNIK has one of the largest amount of treatment options for acne scarring in the North West. From LED light to Laser and Subcision. Acne scarring benefits from a combination treatment plan to reach each layer of the skin for the optimum results.

We have a wide variety of acne scar removal treatments, allowing KLNIK to treat all skin types.

Book a consultation with one of our aestheticians to find out more and create the best treatment plan tailored to you.

This depends on the type of treament you are having. We reccomend factor 50 applied to the area daily and avoiding sun on the treatment area. This is true even after you have finsihed your treatment plan. The collagen can still keep improving for several months after the treatment has stopped. UVA exposure will aid in the distruction of collagen and therefore impact your results, so avoiding sun is best!

LED light is painless whereas Laser and IPL will feel like an elastic band hitting the skin. Treatments that are uncomfortable will include a cryocooler to reduce discomfort or the option of a topical anaesthetic. 

For laser and LED light a skin test can be performed prior to treatment to provide you with an idea of the sensation.

LED light is typically in a course of 12 sessions to support other treatments.

IPL is usually 6 sessions to improve redness or pigmentation

ResurFX laser is usually 3-6 sessions to work on scarring

AcuPulse is typically 1-2 sessions for deeper scarring

Cannular subcision is usually only 1-2 sessions depending on the severity of the tethering.

Acne scarring works best with a variety of treatments, many of which can be delivered simultaneously to speed up results. It's important to note that scarring can lay at various depths so varying treatments helps stimulate collagen throughout the levels in the skin.

In order to treat all skin types and all types of acne scarring KLNIK has a wide variety of treatments available. During your consultation your practitioner will assess your skin and determine the best course of action to suit your skin and lifestyle.
Book A Consultation
If you would like to find out more about our treatments or memberships then please do not hesitate to get in touch with us. Please telephone, email or complete the form below.