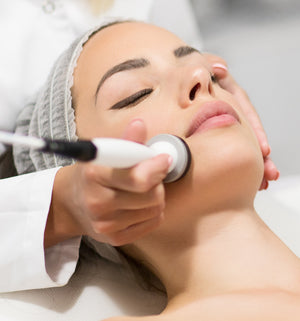 Radio Frequency
T-Shape 2
Skin Tightening
What is Radio Frequency skin Tightening?
KLNIK uses only the best when it comes to Radio Frequency (RF). T-Shape 2 from Baldan is an extremely popular treatment for men and women with no downtime.
Radio Frequency utilises a thermal hand piece for the face, delivering heat energy to lift and tone, it's excellent on hard to reach and delicate facial areas. RF is exceptional for collagen remodelling and anti-ageing for fine lines and wrinkles.
It can be used safely alongside anti-wrinkle injections and fillers and fits well into a busy schedule as make up can be applied later that day. The redness following the treatment diminishes within hours. It also works well as a boosting add on to one of our signature facials.
T-Shape 2 RF now includes Mesoporation, a new function of the latest generation inserted in the handpieces. It increases the permeability of the cell membrane and transfers the active principles of the specially selected products along the stratum corneum, favouring their absorption in to your skin, for a more effective treatment and longer lasting results.
T-Shape 2 includes the popular lymphatic drainage system- perfect if you suffer with fluid retention and puffiness to the face. Leave KLNIK feeling sculpted and more defined.
Further, the core RF technology promotes facial firming. Using 4 electrodes to transmit current to the skin tissue. This vacuum-assisted multi-polar handpiece for the face is able to simultaneously heat the surface and deep skin layers, transmitting a focused and uniform current to the skin. Enhancing the formation of new collagen and elastin for a youthful glow.
Why choose radio Frequency Skin Tightening?
T-Shape 2 is a perfect treatment for the cheeks, jawline, forehead and neck. It's vacuum suction increases lymphatic drainage sculpting the face. Whilst the 4 electrodes conduct RF to the upper and lower part of the facial tissue. T-Shape 2 simultaneously delivers 810-980 NM 2 different LLT lasers in to the skin. All aiding in firming, lifting and compacting of the skin.  
RF works well as an add on to any other treatment we offer at KLNIK. Pair it with an LED light to envigorate and excite your cells in to action or utilse RF to top up your skins firmness between your HIFU treatments.
What are the benefits of radio Frequency Skin Tightening?
- Suitable for all skin types on the face
- Great to reach close to the eyes, where laser cannot reach
- Fast and comfortable treatment
- High level of patient satisfaction
- Non-invasive, non-surgical, requires no anaesthesia
- Practically painless treatment.
- Radio frequency helps to reduce post-operative swelling by improving blood circulation in the treated
area.
-Great option for those new to aesthetics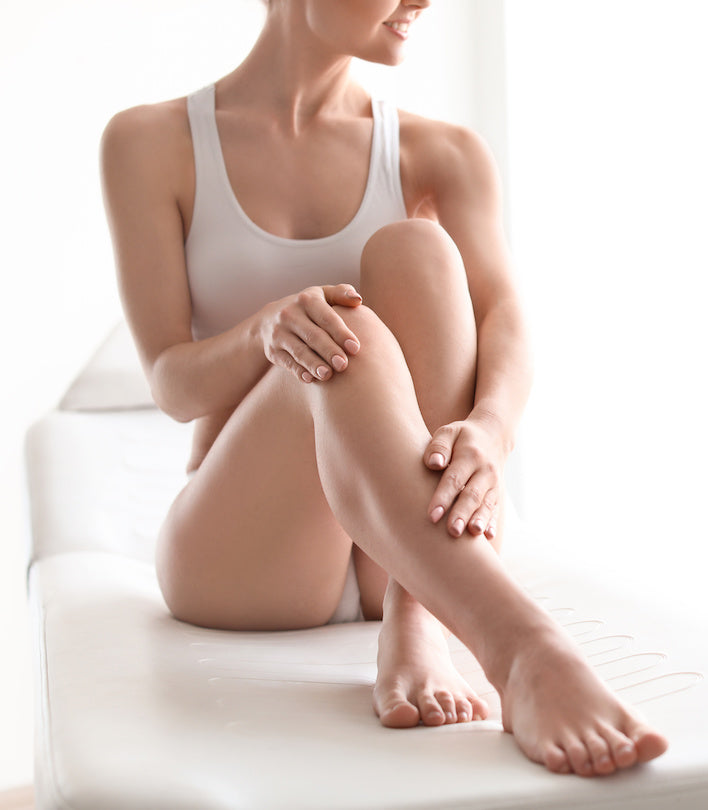 Radio frequency
Before and After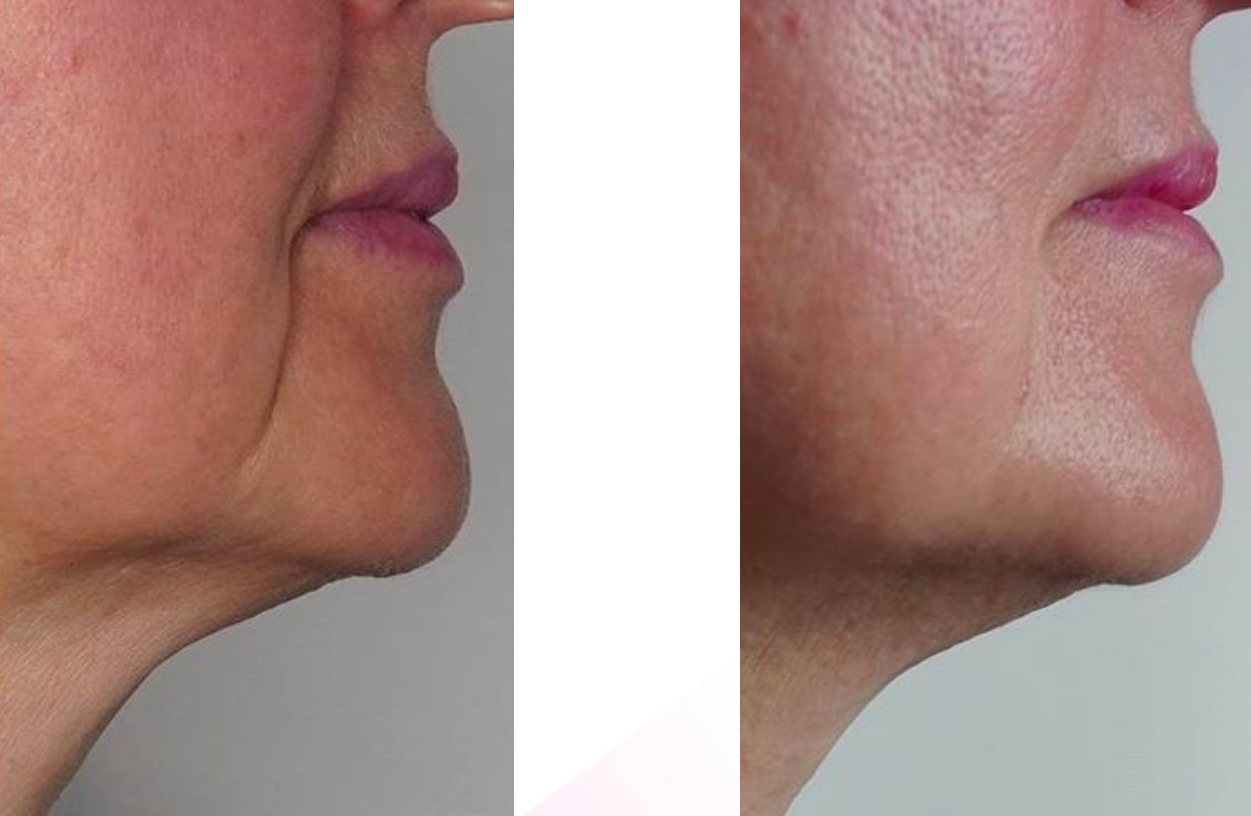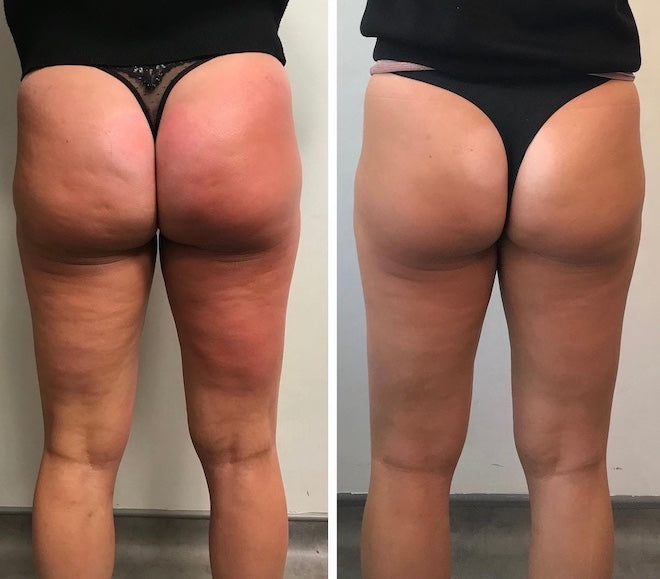 "Radio-frequency reaches the deepest layer by using energy that stimulates collagen production, rejuvenating the skin by restructuring the skin at a molecular level"
Dr. Rosh
Radio Frequency Facial Skin Tightening with T-Shape 2
As seen in
We recommend starting with a course of 6 sessions for face or body areas. Each time the percentage of collagen produced will increase. Top up sessions should be every 3-6 months to maintain the results you've achieved.

The optimum interval depends on the amount of sessions advised to achieve the result you desire. If you would prefer faster results and a more dramatic treatment we would advise shorter intervals and more sessions to increase collagen productivity. For those maintaining their youthfulness 3-6 months may be suitable.

No, however you may be slightly flushed on the area for a few hours following the treatment due to the heat stimulation. We recommend sun protection, factor 50 daily following sessions.

Everyone! Both men and women are suitable and all skin types!

Almost all areas can be treated. An assessment will be required to determine this at your consultation.

Absolutely! It is great on the buttocks and thighs to smooth the skins texture

Technically results are permeant as the treatment will stimulate new collagen cells to be produced. However, we are also ageing, especially after the age of 30 we lose 1% of our collagen a year. Therefore, for your results to last top up session every 3-6 months will continue to replace the collagen you are losing through ageing and sun exposure etc. A healthy diet and life style will prolong results further.

Studies show that patients do increase in collagen due to radio frequency. Age, ethnicity and gender will all play apart in the effectiveness of the treatment.

Prices start from £295 per session depending on the size of the area being treated. Discounts are available on packages.
Book A Consultation
If you would like to find out more about our treatments or memberships then please do not hesitate to get in touch with us. Please telephone, email or complete the form below.