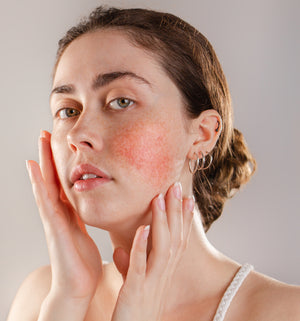 What is rosacea and what can we do to treat it?
Are you suffering with facial flushing, uncomfortable hot burning skin and prominent blood vessels around the cheeks and nose? This is one of the main signs of Rosacea. This is a skin condition that effects men and woman to varying severities. It is more common in caucasian skin types, particularly those with Celtic ancestry. The condition causes redness in the face and sometimes the neck and chest too. Flushing can occur whereby the face feels uncomfortably hot whilst the blood vessels dilate. There are certain lifestyle changes that can help, wearing sun cream daily, prescription creams and antibiotics to reduce blood flow to the skin, as well as avoiding your known 'triggers'. However, in most cases these will not remove existing blood vessels just reduce their effects.
If you are looking for something to help you further, then a course of IPL will destroy those blood vessels close to the surface causing the flushing and bring back your confidence in your skin. IPL is a great treatment that will make your Rosacea more manageable. 
At KLNIK we have the full range of wavelengths available for the M22 device. This allows the consultant to treat your skin using IPL or NdYag Laser or a combination of the two. Some larger vessels, particularly those around the nose, may need a deeper treatment utilising laser. The smaller superficial network of vessels on the cheeks tend to be smaller in diameter, requiring less energy and depth to destroy them. The scattered light found in IPL tends to be kinder to the skin and more effective on the cheeks and nose. The laser allows for heat to distribute into the skin, enough to destroy the redness (broken capillaries) but not enough to harm the surrounding skin. The skin will be left slightly flushed after the treatment. 
At your consultation and assessment the consultant will decide on the most appropriate course of treatment. Those with rosacea suffer with highly sensitive skin, therefore it is important that the products and treatment plan are suitable for you. A skin test and medical consultation is always carried out prior to treatment to determine suitability. Most clients return to work the day after treatment and the skin should start to feel normal a few hours post treatment.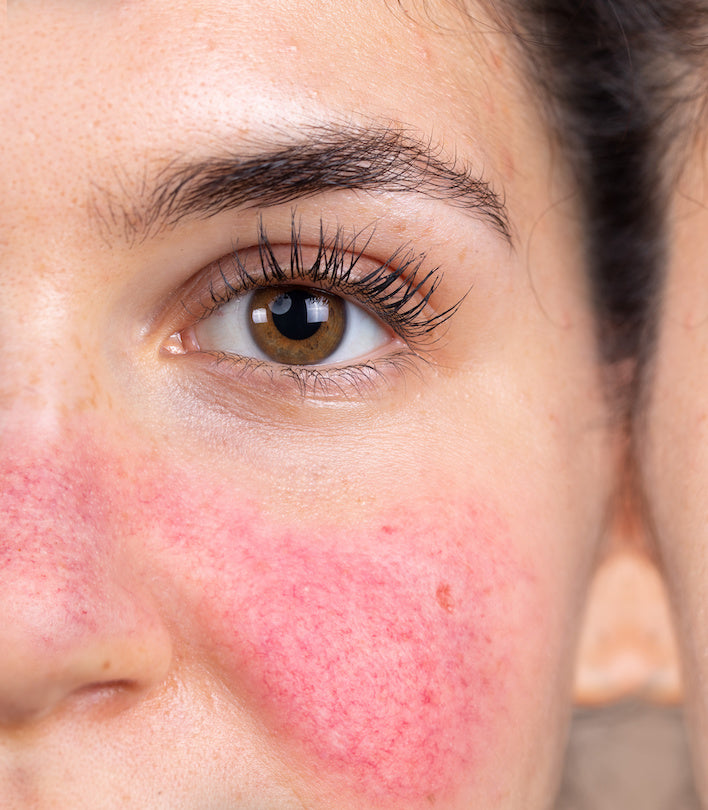 Rosacea treatment
Before and After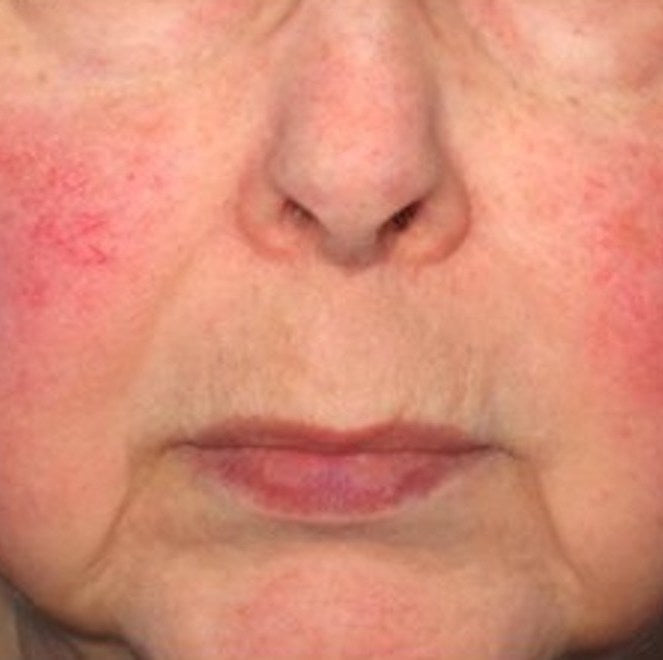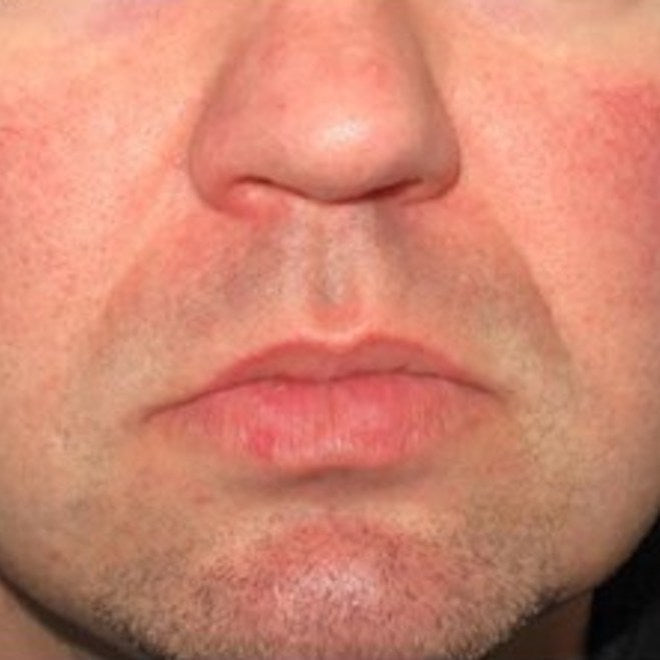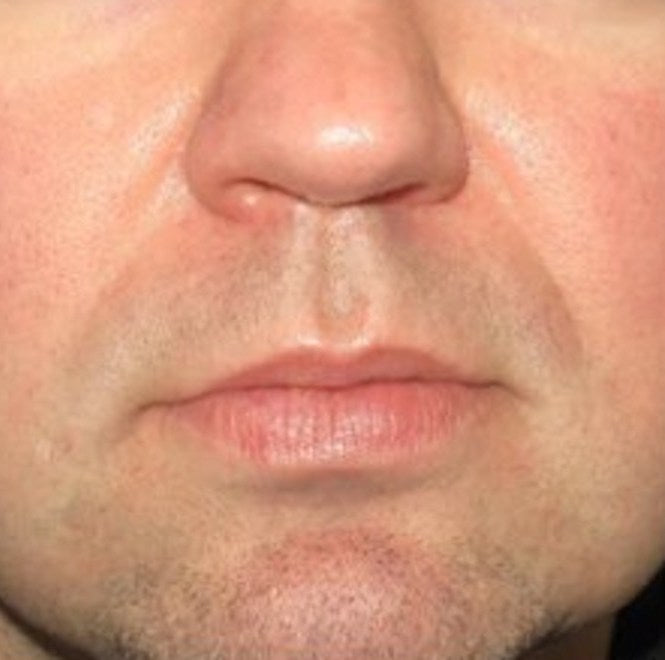 "When blood vessels sit superficially this causes the red appearance associated with rosacea. Laser treatments aid in redirecting the vessels to deeper levels, reducing the appearance"
Dr. Rosh
As seen in
Frequently Asked Questions
Prescription strength products such as AHA's or hydroquinone should be stopped 3 days before treatment as they cause the skin to be sensitise. Do not apply fake tan for at least one week prior to treatment and none must be remaining on the skin. Avoid sun exposure for 4 weeks prior to IPL treatment, wear SPF 50 daily- even in winter.

During the treatment you will have goggles to wear to protect your eyes, and you may notice a bright flash as the light is scattered from IPL. Your skin will be cleansed and gel will be applied to the skin to cool the surface and to help the IPL conduct on to the skin. Several hand pieces and several filters/wavelengths will be used to meet your skin's needs. KLINIK uses the M22 IPL system, unlike alternatives, it is specialised for vein and Rosacea treatment, with the perfect wavelengths to hit veins throughout the upper layers of the skin. You may feel an elastic band-like sensation on the skin with each shot. Topical anaesthetic is not needed and a cooling system post treatment means you may only have slight redness after the treatment.

Avoid heat for 48 hours post treatment on the skin. This includes exercise, sauna, steam room, baths etc. Avoid showering where hot water will touch the face. You may notice redness and swelling after the treatment, we offer a cryo cooler following your session at KLNIK, which will remove most of the redness. When you get home continue to keep the area cool, apply a compress if needed and use extra pillows when sleeping at night to reduce swelling. SPF 50 sun cream should be worn daily to avoid pigmentation.

A course of 6 is recommended to begin with every 3 weeks. A further course will be needed if the Rosacea is moderate or severe. Maintenance sessions are recommended to stay on top of the production of new vessels by the body. As Rosacea is chronic it may well return. It is very client dependent, many benefit from a top up course once per year.To prolong results avoid sun on your face permanently and wear a physical sun cream such as Obaji matte.

On some singular vessels we may use the M22 laser NdYag system. We also offer LED light therapy, great straight after or between your sessions to speed up the healing process and further enhance the skin.

We can tailor our facials to Rosacea sufferers with very sensitive skin care products.

We offer Obagi and ZO skin care suitable for sensitive skin.

IPL Rosacea treatment is not suitable for;

Heavy acne

Asian or Black skin types, as the IPL is attracted to melanin it is likely to cause pigmentation

Pregnant or Breastfeeding clients

If you are taking photosensitive medication such as antibiotics

If you have used AHA's, glycolic acid, retinol or hydroquinone in the last 3 days

The IPL is attracted to the haemoglobin in the vessels. Once the light is pulsed over the area, the haemoglobin will absorb the IPL light causing it to shatter and destroy the vessel. The body will then absorb the broken capillaries naturally. The absorption can sometimes take up to 3 weeks on the face.

You must wear hats and factor 50 sun protection. Following a holiday, you may need a skin test in order to restart your treatment as well as leaving a longer interval between the session. It is best to avoid the sun completely with when dealing with rosacea on the face.

As a Doctor led clinic we have the ability to assess and prescribe skin care. Having the M22 laser/IPL machine we can treat a multitude of vessels on the face at different depths for a better result.
Book A Consultation
If you would like to find out more about our treatments or memberships then please do not hesitate to get in touch with us. Please telephone, email or complete the form below.