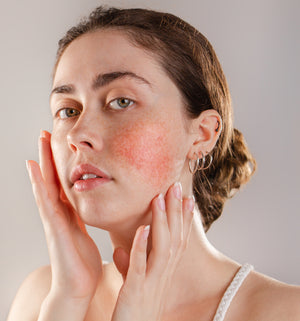 IPL Rosacea Treatment
Facial flushing and broken capillaries
What is Rosacea and how do you treat it?
Are you suffering with facial flushing, uncomfortable hot burning skin and prominent blood vessels around the cheeks and nose? KLNIK has the answer, with our gold standard M22 IPL laser we have the ability to destroy the unwanted capillaries and make your Rosacea more manageable.
Rosacea is a skin condition that effects adult men and woman to varying severities. It is more common in Caucasian skin types, particularly those with Celtic ancestry. The condition causes redness in the face and sometimes the neck and chest too. Flushing can occur whereby the face feels uncomfortably hot whilst the blood vessels dilate. There are certain lifestyle changes that can help, wearing sun cream daily, prescription creams and antibiotics to reduce blood flow to the skin, as well as avoiding your known 'triggers'. However, in most cases these will not remove existing blood vessels just reduce their effects. If you are looking for something to help you further, then a course of IPL will destroy those blood vessels close to the surface causing the flushing and bring back your confidence in your skin. IPL is a great treatment that will make your Rosacea more manageable. 
At KLNIK we have the full range of wavelengths available for the M22 device. This allows the consultant to treat your skin using IPL or NdYag Laser or a combination of the two. Some larger vessels, particularly those around the nose, may need a deeper treatment utilising laser. The smaller superficial network of vessels on the cheeks tend to be smaller in diameter, requiring less energy and depth to destroy them. The scattered light found in IPL tends to be kinder to the skin and more effective on the cheeks and nose. The laser allows for heat to distribute into the skin, enough to destroy the redness (broken capillaries) but not enough to harm the surrounding skin. The skin will be left slightly flushed after the treatment. 
At your consultation and assessment the consultant will decide on the most appropriate course of treatment. Those with Rosacea suffer with highly sensitive skin, therefore it is important that the products and treatment plan are suitable for you. A skin test and medical consultation is always carried out prior to treatment to determine suitability. Many clients return to work post treatment and the skin should start to feel normal a few hours post treatment.
What happens on the day of treatment?
- Following your consultation, a medical questionnaire will be filled out which will deem whether you are suitable for treatment. 
- A series of pictures will also be taken to allow us to compare the outcome of your treatments to ensure we reach your desired result. 
- Your skin will then be cleansed and treatment will begin
- There is no downtime with IPL Laser and so you can return to your normal daily activities following treatment.
- You should expect to see the skin beginning to flake a week after treatment, this is a result of increased cellular turnover and is perfectly normal.
- Depending on the condition in which you are treating will depend on how fast you will see results.
- You are advised not to exfoliate the skin for up to 7 days after treatment and not take hot showers for up to 48 hours.
What are the benefits of laser rosacea treatment?
IPL Rosacea treatment has a variety of benefits, these include:
-Non to little downtime
-Latest IPL equipment designed just for vessel reduction
-Doctor led treatment
-Up to 7 different wavelengths used to target Rosacea
-Longer more thorough treatment time
-LED light can be used to support healing
- Full skin rejuvenation will occur after a course
-Fine lines, uneven skin tone, pores & sun damage will also improve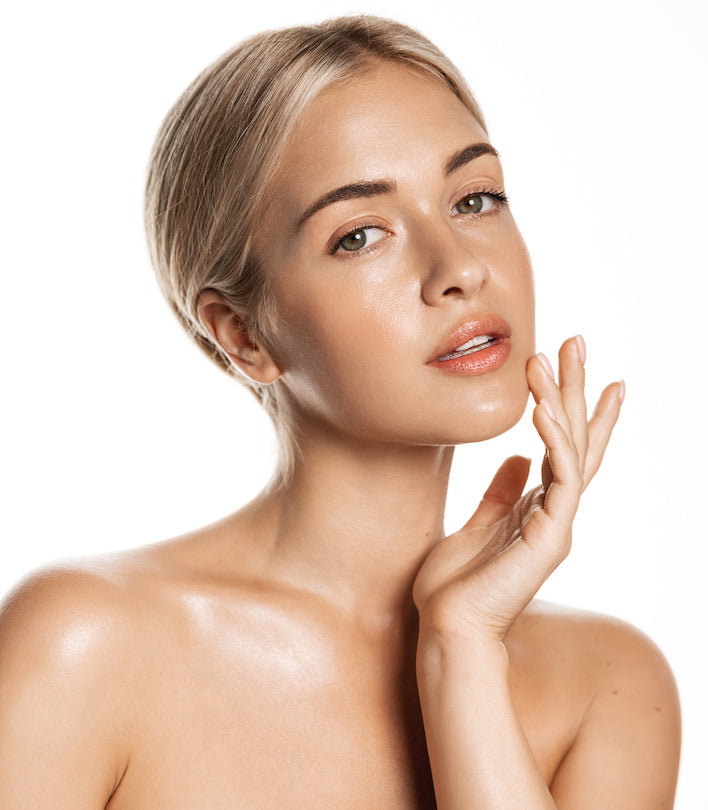 Laser rosacea treatment
Before and After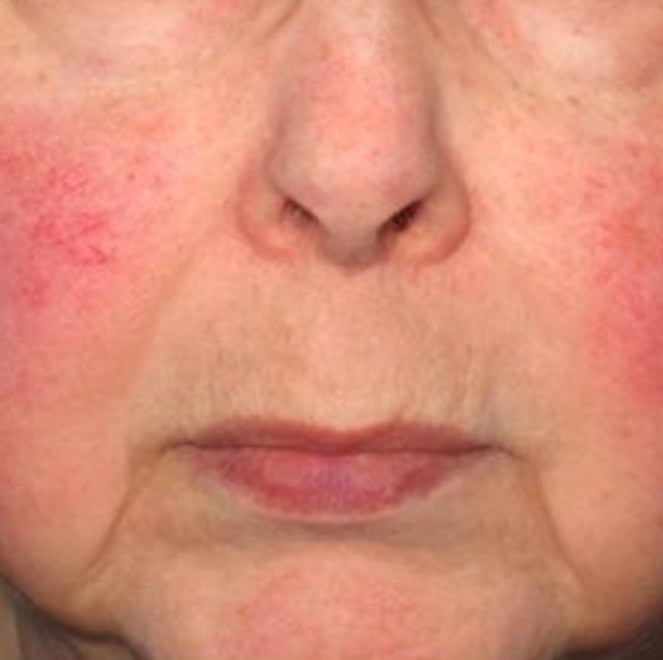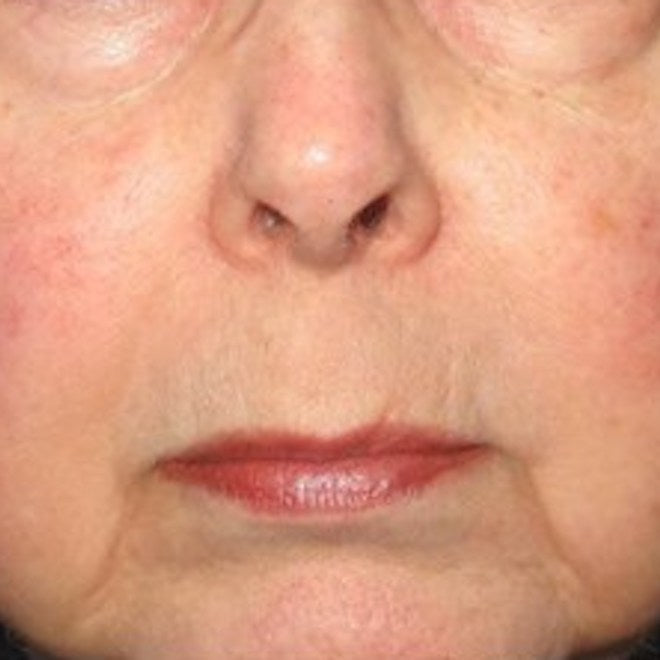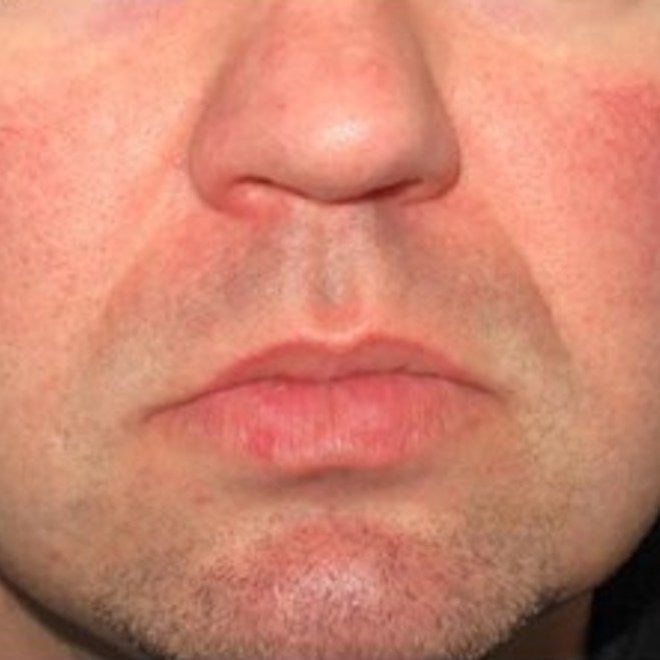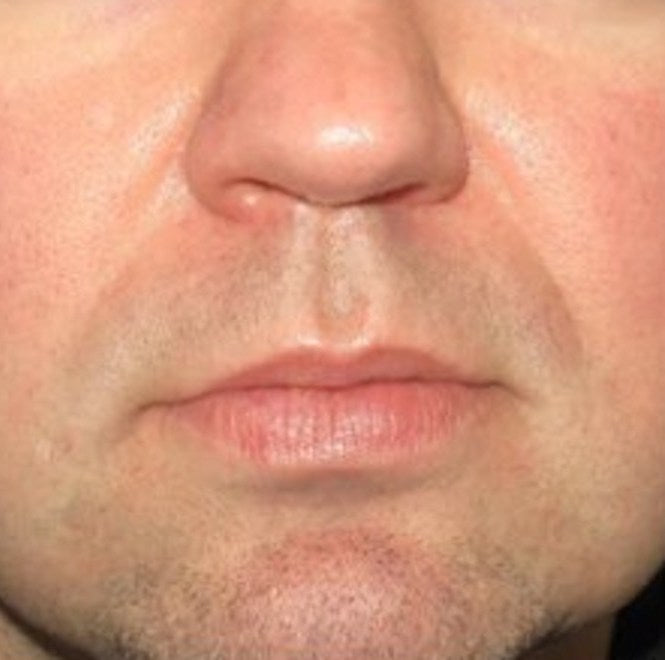 "Rosacea is a common skin condition which is characterised by facial blushing/redness. This is easily treatable with our M22 laser here with highly trained laser technicians at Klnik"
Dr. Rosh
As seen in
Frequently Asked Questions
Yes, KLNIK IPL technology targets redness, inflammation, acne, pimples and uneven skin tone caused by Rosacea.

For most clients we recommend a course of 6 sessions one every 3 weeks, whether its mild, moderate or severe. Clients respond differently, as there are so many factors effecting the condition. Based on the results from the first course will indicate how regular you may need top up sessions.

IPL is usually the better option for most Rosacea clients. IPL is scattered light which is better for sensitive skin. and it can target multiple layers in the skin. Whereas lasers only reach one depth making them more restrictive yet more beneficial for leg veins and larger nose vessels.

More studies are starting to show there may be a link between the two. Your consultant may discuss this with you during your treatment programme. Some clients respond better to IPL if there flushing is more under control through diet – therefore producing less vessels between sessions.

With our technique bruising is very rare post treatment. Clients with superficial vessels may notice results straight away, but most of the vessel clearance happens through the body's lymphatic system in the 2-4 weeks following each session. It is very rare but some clients have swelling for up to a week after the session, an extra pillow behind the head at night, avoiding heat and drinking plenty of water can assist with this.

Usually there is none. However, on rare occasions some clients may have exccesive redness for the rest of the day and minimal bruising (very rare).

Instant vessel clearing during and after your session. The removal of larger vessels is more noticeable. After 3 sessions, results can be clearly seen on all types of rosacea and severities.

Ideally if you are on antibiotics or antibiotic cream, we would prefer you to have finished these before commencing treatment with us as they can make the skin more light sensitive. If this is not possible, we would require you to see Dr Rosh first to see what treatment can be conducted. Avoiding sunlight on the area is important, a physical sun cream would be more appropriate whilst undergoing treatment – this should be used all year round. IPL is suitable for fairer skin types, please book a skin consultation as we have other options available to treat all skin types.

Yes, it is possible. Most clients with rosacea are sensitive to sun light and should avoid sun on the face. Therefore it is usually fine to treat with caution during summer months. A physical sun cream must be worn.

KLNIK has the best machine available to treat Rosacea, the Lumenis M22 is specifically designed to target skin and blood vessels. Unlike most traditional IPL machines that are designed for hair removal purposes.
Book A Consultation
If you would like to find out more about our treatments or memberships then please do not hesitate to get in touch with us. Please telephone, email or complete the form below.