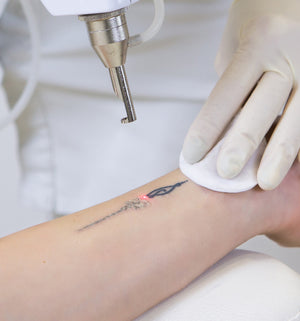 What is laser tattoo removal?
Tattoos are a form of body modifcation in which involves injecting ink into the dermis layer of the skin. The treatment is considered permanent whereby the only known removal technique is via laser. The laser engery assists in breaking down the ink beneath the surface of the skin. The tiny fragments are then naturally removed from the body.
The number of sessions required to remove the tattoo completley is known to be between 6-8 sessions however, this may vary between patient's factors such as the colour of ink used and the size of the tattoo. This will be disucssed within your consultation where a personalised treatment plan will be discussed with an idea of price and estimated time scale to remove tattoo.
What happens on the day of treatment?
- Following your consultation and test patch 2 weeks prior to treatment, a medical questionnaire will be filled out which will deem whether you are suitable for treatment. 
- A series of pictures will be taken to allow us to compare the outcome of your treatments to ensure we reach your desired result. 
- Your skin will then be cleansed and marked out. A white pencil will be used to cover any moles on the skin as we do not want the laser to affect them. 
- The procedure will begin and should take no longer than an hour. 
- It is important to apply suncream to the area post treatment. As a new layer of skin is exposed, it is important to keep it as healthy as possible.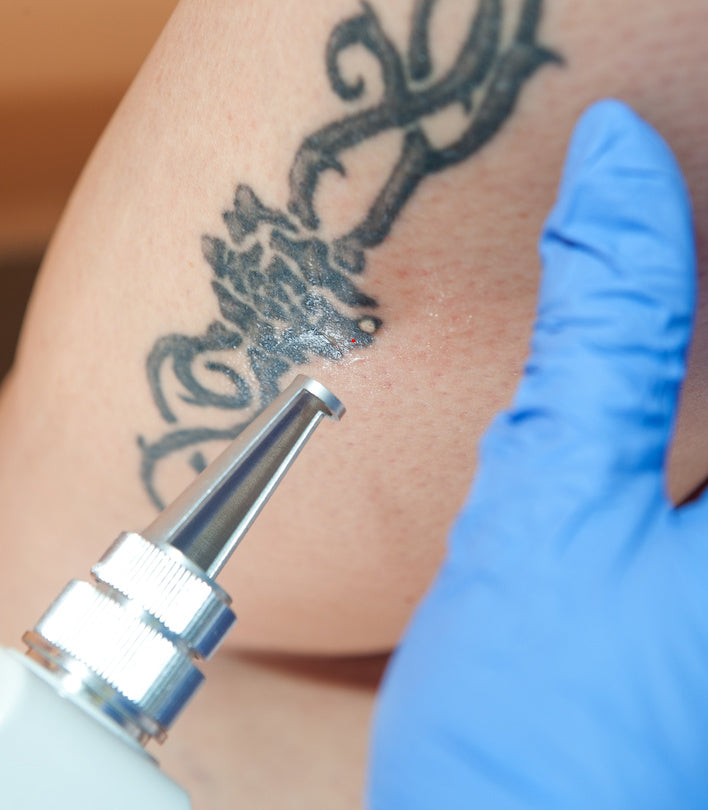 " At Klnik we have one of the most advanced laser tattoo removal devices to ensure you get the results you desire. "
Dr. Rosh
As seen in
Frequently Asked Questions
The number of sessions of laser tattoo removal will depend on a numbe of factors but in general it will be 6-8.

Whether you are a candidate for laser tattoo removal will depend on your skin type and so a consultation is required to answer this question.

6-8 depending on the size and pigment of the tattoo.

The cost of the treatment will depend of on the size of the tattoo however this should be around £1500 for small tattoo for all sessions.

There is no down time however you may feel tender or compare the feeling to sunburn.

Yes, you will need a consutlation before any treatment at KLNIK. This allows us to decide if you are suitable for the treatment to help us reach your desired outcome.
Book A Consultation
If you would like to find out more about our treatments or memberships then please do not hesitate to get in touch with us. Please telephone, email or complete the form below.