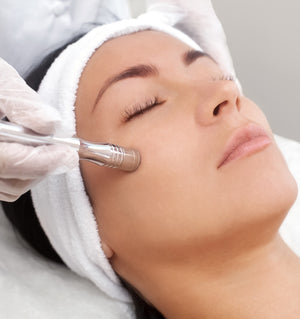 Aqua3
3 in 1 Microdermabrasion Facial
What is the Aqua 3 Microdermabrasion Facial?
KLNIK welcomes the 3 in 1 facial, AQUA3 from Baldan! The first place in the North West to offer such advanced facial technology.
Hydrodermabrasion provides you with a facial service that can cleanse, moisturise and rejuvenate all in one session. KLNIK chose Aqua3 as it combines the extraordinary cleaning properties of water-based peeling, containing sequential acids with microdermabrasion and the transdermal delivery of world-class cosmetic ingredients.
Aqua 3 facial removes impurities from the surface of the skin, such as dead skin cells, black heads and whiteheads. Due to the quality of the Hyaluronic acid serum used and molecular weight, the skin is left deeply hydrated after a glowing facial.
Additional serums during the facial oxygenate the cells and encourage restructuring to provide even more vitality!
Introduction into Aqua3 facials
As we age the superficial stratum corneum gets thicker, preventing the pentration of key ingredients that we use on our skin. It also removes the softness and youthful glow that we all strive for. Aqua3 from Baldan's approach is a 3 in 1 facial to restore your glow and allow for maximum absorption. The multiple heads allows for the best possible step by step approach to obatin the best results for renewd skin.
Infuser Aspirating Handpiece
The water-based peel containing sequential acids allows the therapist to deep cleanse your face and obtain a long-lasting moisturising effect. Cleansing and toning alone is not enough to penetrate the outer most layer of the skin – the stratum corneum, water peeling helps to break this barrier.
Diamond Grain Handpiece
The properties of diamond grains allow exfoliating and renovating any type of skin. This includes thickened skins, skins with deep wrinkles, male beards, acne scars or stretch marks.
Mesoporation Handpiece
Through the transdermal delivery of active substances, this handpiece makes any treatment extremely effective. It allows the restructuring of your skin from within, to give you a fresh, bright glow. Pumping various bespoke serums such as hyaluronic acid serum contain oxygenating properties far deeper than a traditional facial would achieve.
Why choose Aqua3?
The facial includes the following steps:
Mandelic acid wash which gently removes dead skin from the surface
Salicylic acid wash that dissolves skin debris that clogs pores and causes spots and acne
Chemical Peel unique to your skin condition or area of concern such as anti-aging, sensitive or acne prone skin
Mesotherapy channels serum infused using gentle electrical impulses
Diamond dermabrasion that smooths fine wrinkles and further exfoliates
Hylauronic acid is pumped in to the skin to hydrate
Oxygen cloud mask which oxygenates the skin, smoothing wrinkles and restoring a youthful and glowing appearance.
Vitamin therapy tailored to the individuals skin concern. These will continue to penetrate for several days following the microdermabrasion facial
Optional Dermalux LED TRIWAVE to boost energy within the cells, leaving your skin feeling energised and ready to produce collagen
What are the benefits of Aqua3?
Aqua 3 facial has a number of benefits. These include:
-Cleans the face deeply
-Removes dead skin cells
-Balances sebum production
-Deep moisturising benefits
-Restructures tissue and improves the lymphatic system
-9 treatment heads for varying abrasive power to suit all skin types
-Includes mandelic acid, salicylic acid, hylauronic acid active oxygen face mask
- Mesoporation hand piece insures better absorption of serums and vitamins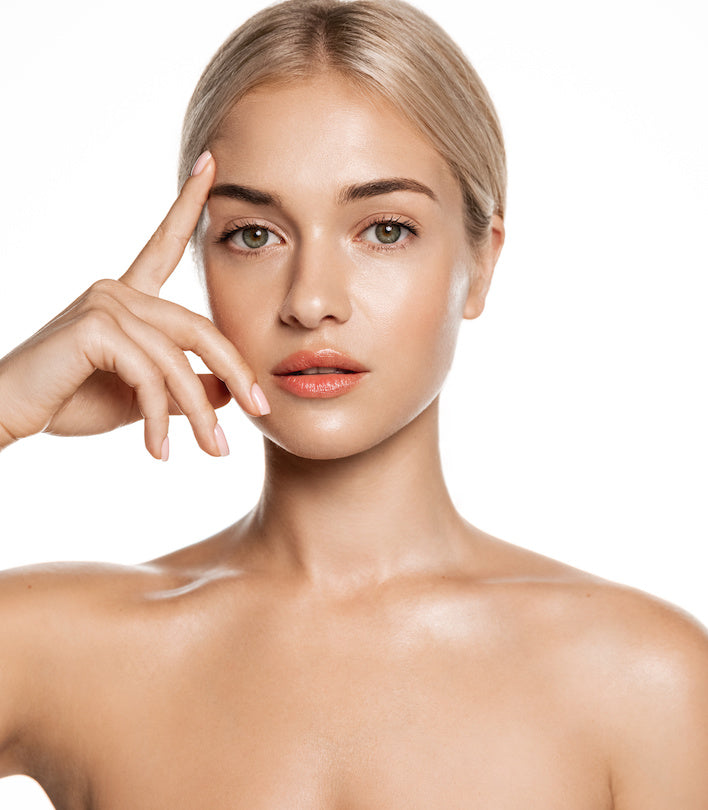 Aqua 3 facial
Before and After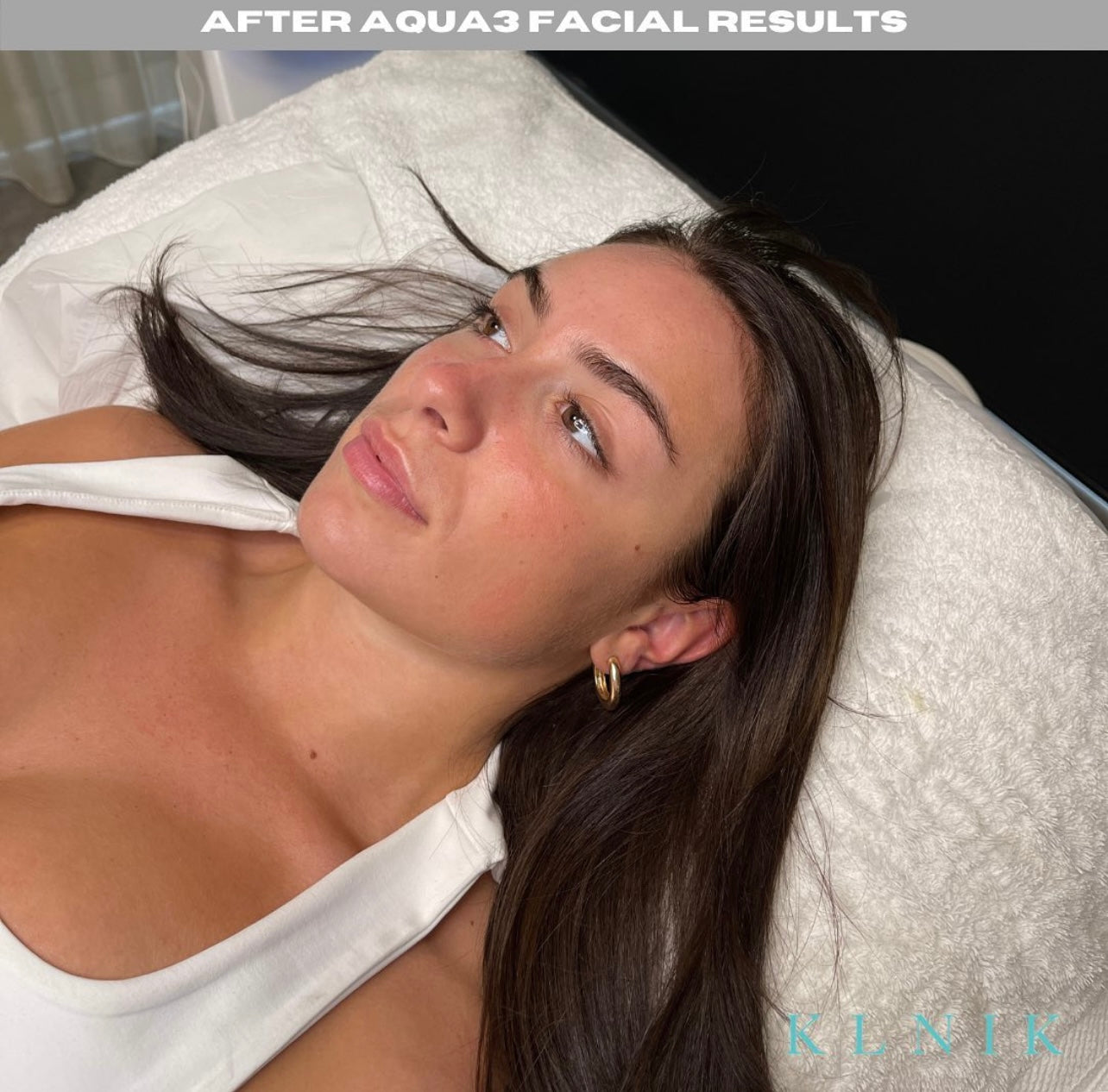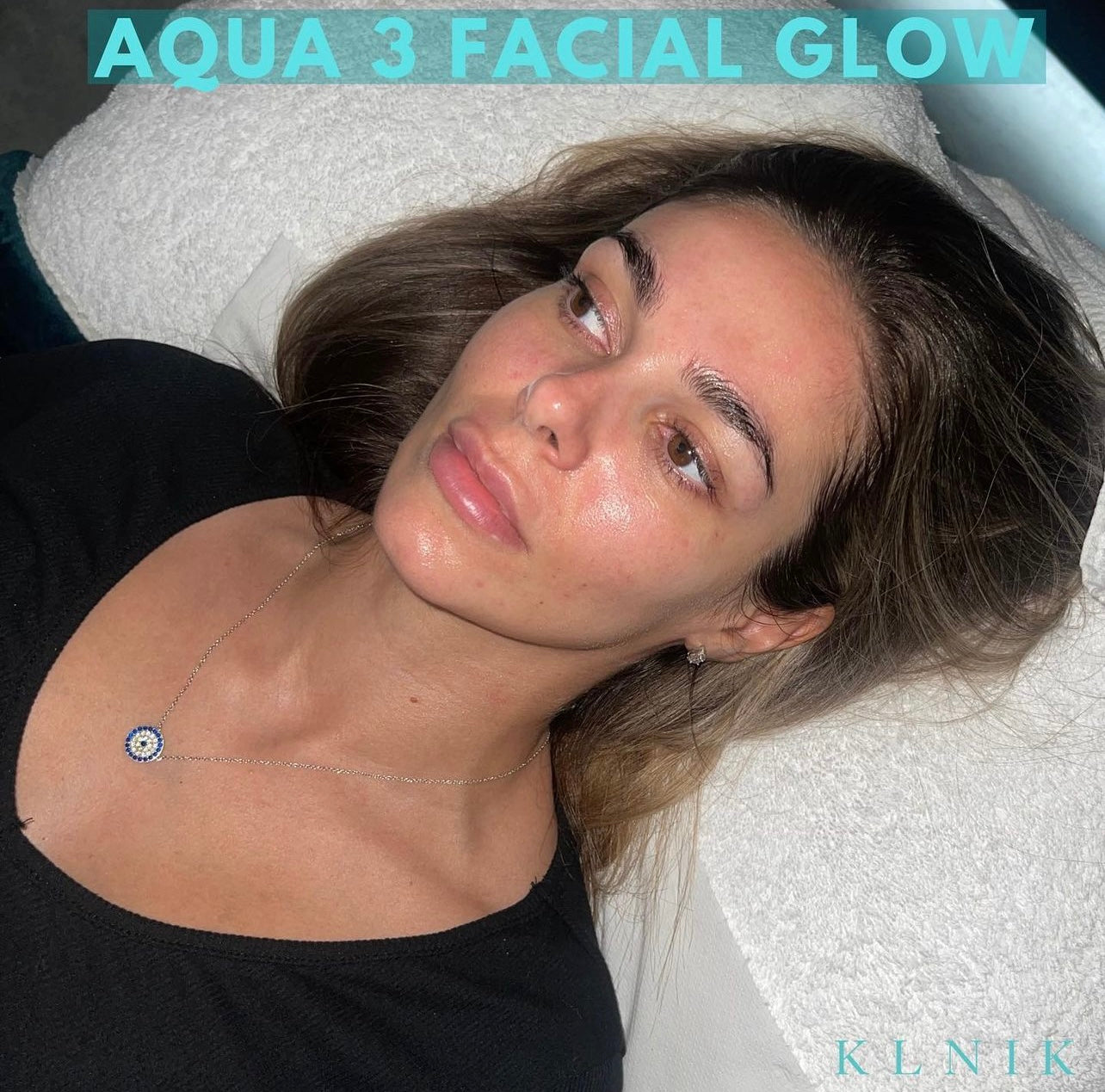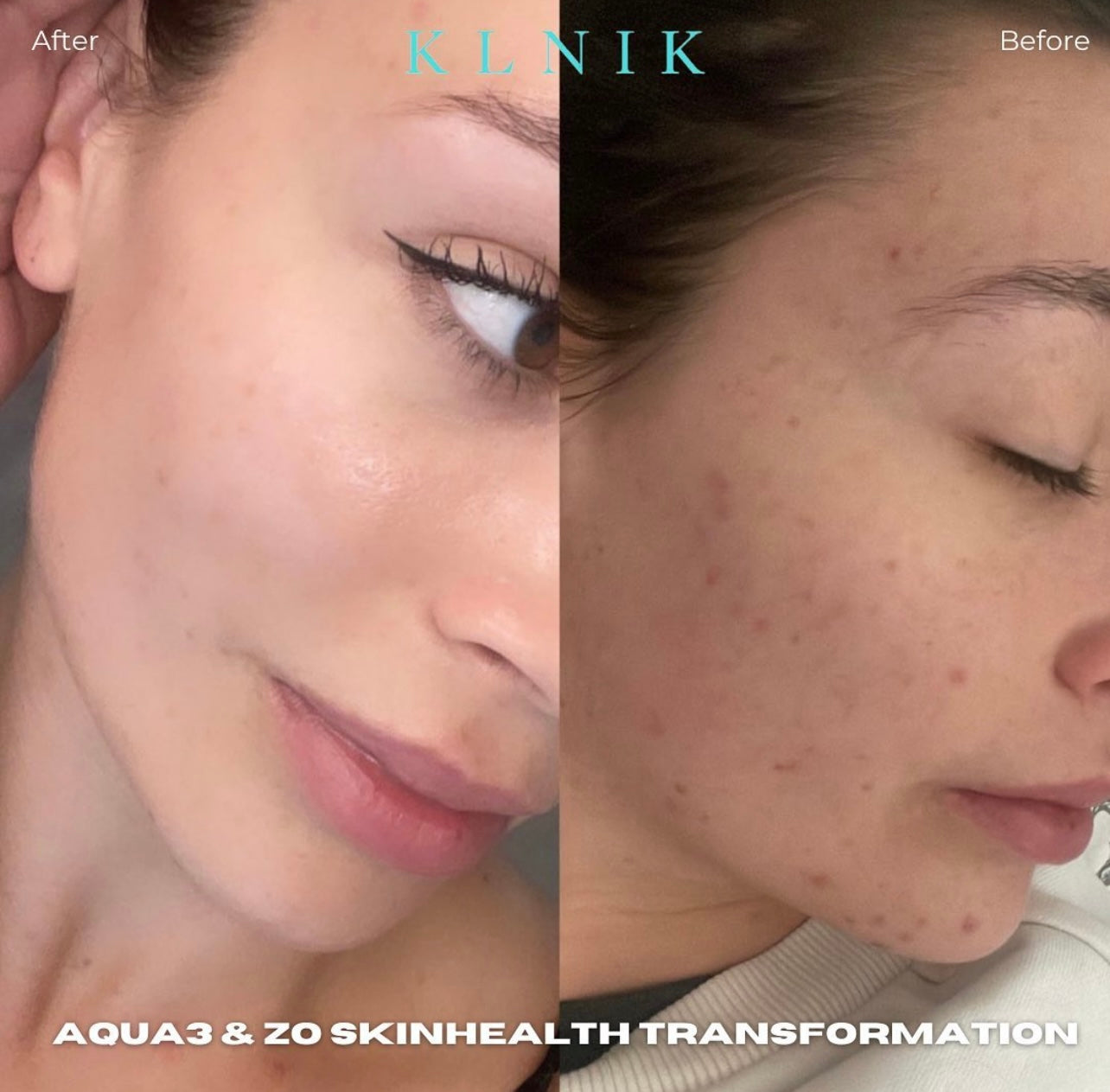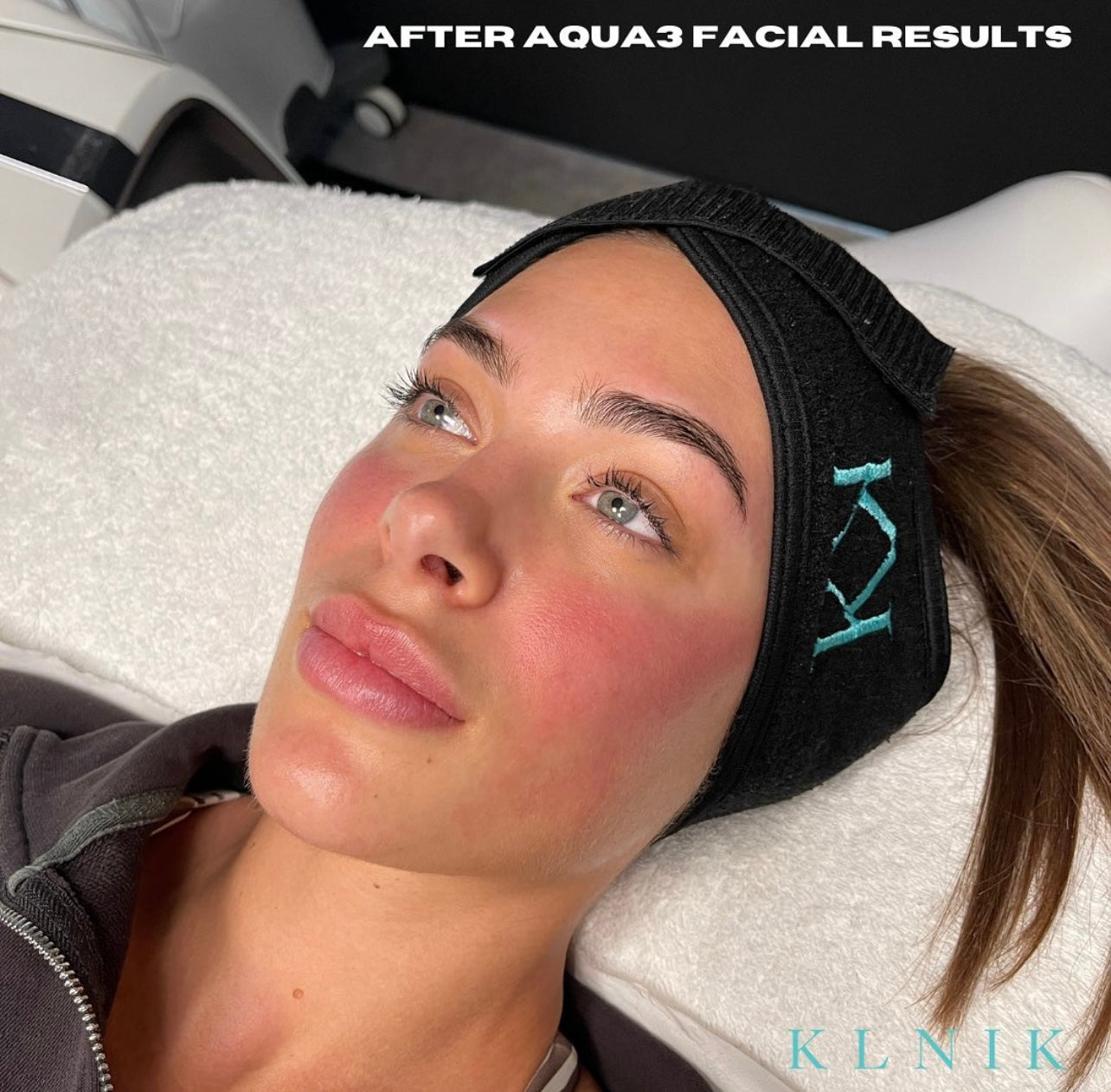 "Aqua 3 facial is an ultra-effective system for regenerating the skin. Providing the ultimate rejuvenation leaving your skin hydrated, brighter and healthier"
Dr. Rosh
Aqua 3 Microdermabrasion Facial
As seen in
Frequently Asked Questions
Deep water based cleansing to empty the pores, followed my diamond grain microdermabrasion cleaning and clearing of the skin from debris and mesoporation to enhance the absorption of bespoke serums.

No, Aqua3 is a longer facial including more steps, most notably microdermabrasion- this helps to polish the skin and remove dead skin cells as well as adding a microcurrent to help with lifting and toning as well as deeper penetration of the products.

Prices start from £150 per facial, discounts are available on packages

One a month for 6 months is the optimum to see a longer term glow! But some clients like to have them ongoing or as a one off if they combine with other treatments. For those with stronger skin concerns 2 a month is more appropriate.

All clients are suitable as it is bespoke to each condition and skin type, please book a free consultation for guidance.

Yes! Radio Frequency can be done on the same day, prior to the AQUA3. You can combine with most treatments, AQUA3 is great along side skin tightening radio frequency, laser or IPL. It allows the other treatments to penetrate deeper in to the skin and is the best option to create a glow on the skins surface, unachievable with deeper treatments. We recommend a 2 week interval between this and other treatments.

Ideally before holiday you should leave a 2 week gap after treatment, this is because peels are used during the facial which can cause the skin to be more sensitive to sun light for around 2 weeks and sun cream will not be enough protection. After a holiday or sun bed etc 2 weeks should also be left as the skin has been subjected to more intense UV damage.

We advise SPF 50 following all our facials daily, but it is important to stick to this for at least 2 weeks after your microdermabrasion as the outer most layer of dead skin will have been removed, reducing your skin protection from the sun. We have many supporting products at Klnik from OBAGI and ZO that can be used to prolong the results of your Aqua3 facial.
Book A Consultation
If you would like to find out more about our treatments or memberships then please do not hesitate to get in touch with us. Please telephone, email or complete the form below.