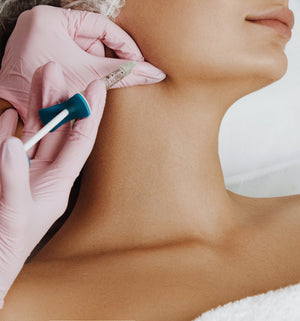 What is jawline filler and is it suitable for me?
Jawline filler treatment can help to create a contoured jawline that frames the face and add definition. In other cases jaw filler can help decrease the ageing process of the face. As the skin loses elasticity and begins to sag, the jawline starts to appear soft and lacking definition. The corners of the mouth also begin to droop, causing marionette lines to form. A loss of fat tissue can also cause this skin formation often resulting in the appearance of jowls.
In these cases, dermal fillers are used to fill in the lines, add volume where it has been lost, create a lifting effect, and camouflage the look of jowls with strategically placed filler. If carried out for an anti-aging affect this procedure may also be combined with a skin boosting treatment such as Harmony Ca.
Jawline enhancement can beneficial to a variety of people. This can include anyone with a weak, retracted or short chin, patients looking to balance their facial features, those that have developed jowls through ageing and clients with natural dimples along the chin and jawline. 
Male jaw filler is becoming increasingly popular! Jaw filler can be used to sculpt and strengthen a softer jawline into a stronger more harsh appearance that we see in many male models and celebrities more recently. With the use of jaw filler men can also have the procedure to distract from a 'double chin'.
What will happen on the day of treatment?
- Following your consultation, a medical questionnaire will be filled out which will deem whether you are suitable for treatment. 
- A series of before and after pictures will also be taken at various angles and expressions. This will therefore allow us to compare the outcome of your treatments to ensure we reach your desired result. 
- Your skin will then be cleansed and a numbing cream is applied to the area. Numbing cream is proven to reduce pain from filler by 60% when a needle is used. However the same can not be said for the cannula method. Whether a needle or cannula is used will depend on what treatment you are having and also your own facial structure.
- In this case a cannula will be used with a small introducer which will pierce the entry point for the cannula to follow. The cannula is a blunt instrument and is therefore the safest method of filler administration and so the risks are reduced. This method also dramatically reduces the risk of swelling and bruising.
- Following the procedure you may feel tender to touch and may possibly experience swelling and redness. This will subside over the following days however over the counter pain relief and arnica cream may be applied.
- We also ask that you refrain from any physical activity for 24 hours and avoid extreme heat, including hot tubs and saunas. It is also advised to avoid make up on the area for 24 hours as this could lead to an infection. 
- You will then receive a follow up phone call 2 weeksprior to treatment to ensure you are happy with the treatment.
What are the benefits of Jaw filler?
If done correctly jaw filler can have a very beautifying effect. Some of the benefits include:
- Providing facial definition
- Quick and effective
- Can have a slimming affect
- Can reduce appearance of double chin
- Facial balancing
- In men can give a more masculine appearance
- In women can give the 'heart shape' effect
- Can give back structure to your face following weight loss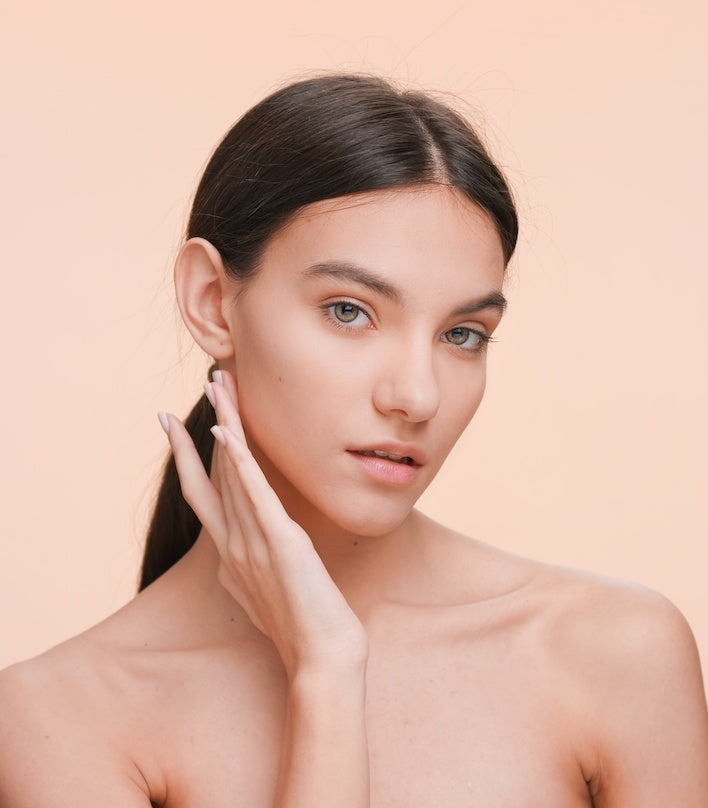 Jaw filler
Before and After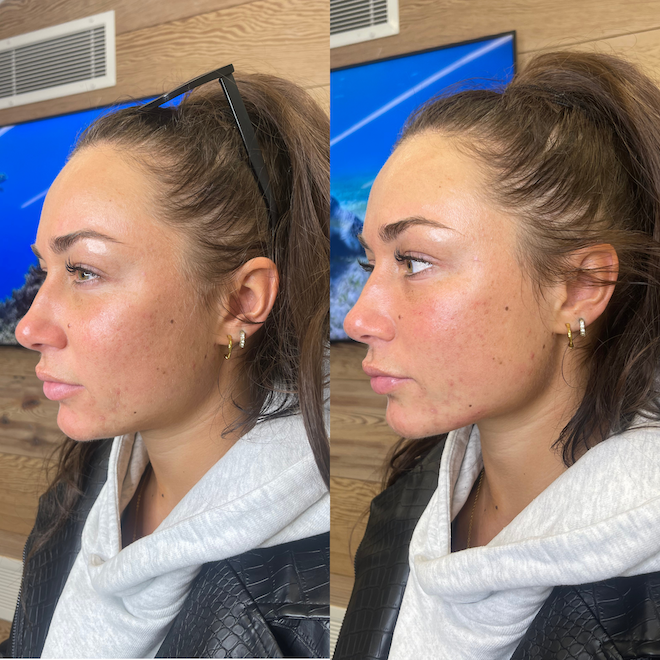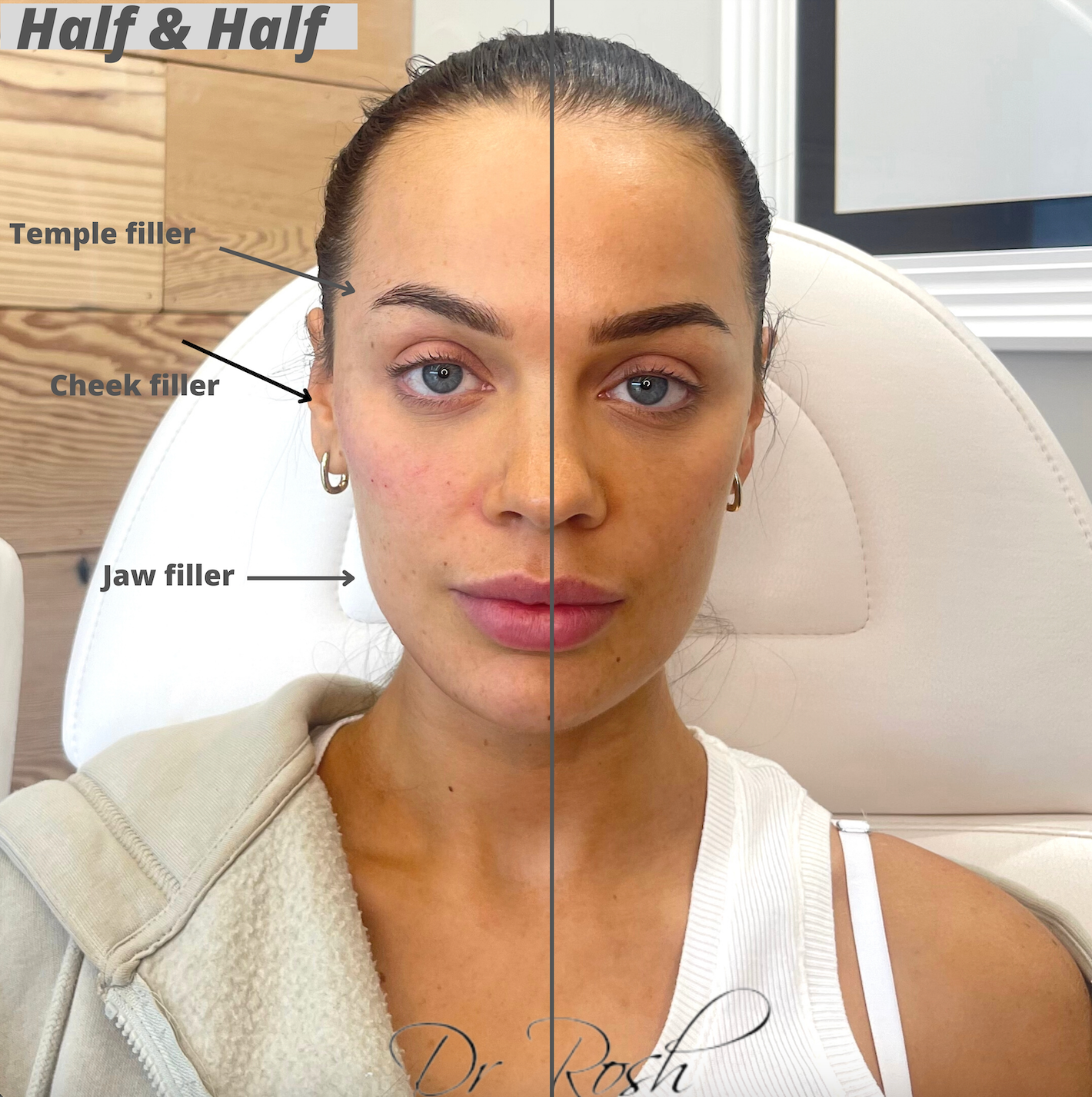 "Jaw filler done correctly can restore, rejuvenate and beautify. However social media is overwhelmed with images of overfilling of the jaw that can leave the patient with a 'boxy' look that is not right. Adding small amount of filler to the jaw can add definition and contour to the face and in older patients, reduce the appearance of jowls"
Dr. Rosh
As seen in
Frequently Asked Questions
Coolsculpting, fat dissolving injections and HIFU are better alternatives for double chin fat reduction. However, many clients combine one of the above, or more, methods alongside dermal fillers to achieve jawline enhancement. This creates a more defined look by targeting both.

Poor bone structure can create the illusion of a wider face or the appearance of a double chin when in fact there is little fat tissue. Jawline filler can be used to build on the existing bone structure, creating definition, the illusion of a slimmer face just through improving the overall symmetry and profile of the face.

Typically it will last 12- 18 months, but this depends on lifestyle and how your body processes hyaluronic acid serum.

Not usually as the filler used at KLNIK includes local aesthesia to reduce the discomfort during and after the procedure. Further to this the experienced medics performing the jawline sculpting procedure understand how to make the process as comfortable as possible.

Whether it is 1ml of jawline filler or 2ml of jawline filler, the quantity completely depends on the individual and the results looking to be achieved

No, you can return to your normal activities post procedure, we recommend not to apply products for 12-24 hours as a precaution. Occasionally swelling or bruising may appear but this subsides quickly with good aftercare

Jawline filler cost UK wide varies from injector to injector, at KLNIK our prices start from £395. This is dependant on the amount of filler you will need. It is therefore important to have a consultation to discuss this.

In general jaw filler shouldn't hurt however it may feel uncomfortable at times with brief pressure and strange sensations. However due to a canula being used this reduces trauma therefore causing less pain.

Whether you are suitable for jaw filler or not will completely depend on your own anatomy. It is therefore important to book in for a consultation and we can decide whether this is the correct treatment for you or not.
Book A Consultation
If you would like to find out more about our treatments or memberships then please do not hesitate to get in touch with us. Please telephone, email or complete the form below.