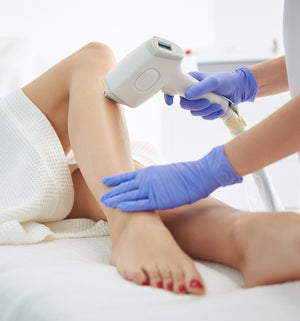 What is Sclerotherapy and what can it be used for?
Sclerotherapy is an effective, non-surgical treatment for reducing vessel malformations. When dilated and positioned close to the surface of the skin this can give blueish discolouration and clear visibility of the vein pathway. This is often caused by poor life style choices such as sun damage and excessive weight gain. However they can often occur due to the influx of hormones within the body during pregnancy.
If the vein isn't necessary to the functioning of the body or plays an important role then we can seek to remove them. Sclerotherapy works by injecting a solution directly into the veins causing them to reroute and take formation in another area. This is a minimally invasive procedure where the patient can return to their daily activities almost immediately. This acts as a permanent solution where the local tissues forms a scar and is reabsorbed to remove the vein. Up to 80 percent of people see an improvement from the treatment and also report alleviation from pain causes by spider veins. 
However there are a number of ways in which you can aid in vessel malformations before you decide to get treatment. This includes regular exercise, avoiding standing for long periods of time (this often isn't achievable with work and so small breaks throughout the day can aid this), elevating affected areas where possible and also the use of compression stockings. 
What happens on the day of treatment?
Following your consultation, a medical questionnaire will be filled out which will deem whether you are suitable for treatment. A series of images with be taken following this. This will therefore allow us to compare the outcome of your treatments to ensure we reach your desired result. The area will then be cleansed and anaesthetic will be injected into the area. The treatment with then begin where the solution is injected directly into the veins. The procedure time will vary depending on how large the treating area is. The treatment shouldn't be too painful but some discomfort may be felt. The area may feel tender and swollen for a few days post treatment however this can be managed with over the counter pain relief. We also ask that you refrain from any physical activity for a week and avoid extreme heat, including hot tubs and saunas.
"Sclerotherapy is an effective treatment for visible veins. This provides a permanent solution for the condition by permanantly removing the vien pathways which are then redirected. A simple procedure but such amazing results"
Dr. Rosh
As seen in
Frequently Asked Questions
Sclerotheraphy is the process in which a soultion is injected into vein to remove them from their position.

No, sclerotherapy treatment shouldn't be too painful however you pay feel some discomfort.

Anyone who is breastfeeding or has recently given birth is NOT a candidate for this treatment.

The price of the treatment will vary depending on how large the area is that we will be treating. A consultation is therefore a MUST.

The results of the procedure are permanent and the veins should not reform in this position.

As sclerotherapy treatment is a non invasive treatment - recovery time should be minimum .
Book A Consultation
If you would like to find out more about our treatments or memberships then please do not hesitate to get in touch with us. Please telephone, email or complete the form below.