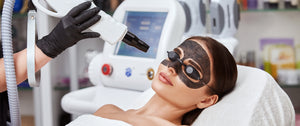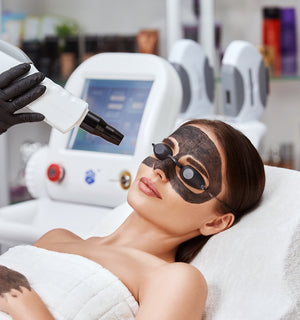 What is the carbon laser facial?
The Carbon Laser Facial is one of the most advanced treatments for skin imperfections and promotes a smooth and glowing complexion. The Carbon Laser Peel Treatment at KLNIK helps reduce fine lines & wrinkles, can lighten age spots and dark spots, fade freckles, shrink pores, removes blackheads and oil flow and kills bacteria reducing signs of acne. The process is non-invasive and pain-free!
It's incredible results and subsequent fame are derived from the use of carbon. The black substance acts as a target for laser light, which is attracted to darker colours guiding the laser to the target areas. When the carbon is applied and massaged into the face, it enters the pores. Once hit by laser light, the carbon heats up and 'explodes,' removing built-up dead skin and damaging the inner walls of the pore. The heat generated induces collagen growth, reducing pore size, and improving skin texture, which would otherwise not be possible without the use of carbon.
Why choose Klnik for the carbon laser treatment?
- KLNIK uses the M22 laser which is the most effective NdYag laser for Carbon Peeling
- Nd:YAG module employs a homogeneous distribution of energy that helps improve the efficacy and safety of treatment by minimizing epidermal tissue damage
- Practitioners are highly experienced in providing a bespoke and tailored treatment
- Our team of Doctors, Nurses and Consultants are experienced in all skin conditions
- KLNIK has a wealth of equipment that can be combined with the Hollywood carbon peel to maximise results
Developed by Lumenis®, the M22™ is a state-of-the-art, multi-functional laser platform designed to treat over 30 skin concerns and conditions with exceptional outcomes equipped with four distinctive modules. At KLNIK we have the experience and ability to combine as many of these lasers or IPl platforms to create a tailored treatment for you. Some clients may also be suffering with thread veins, telangiectasia, melasma and pigmentation as well as deeper scarring such as ice pick and rolling scars. Together the machine can target many variations in unwanted skin problems.As a non-surgical procedure, the facial Hollywood peel usually takes under an hour to complete and typically requires little – if any – recovery or downtime.
What does the carbon laser treat?
- Reduce fine lines and wrinkles
- Tighten dilated pores
- Reduce acne, scars and post acne discolouration
- Stimulate collagen growth
- Improves skin texture
- Removes dead skin cells from the superficial epidermal layers
- Restore skin integrity and radiance
- Clears pores to help reduce blackheads and whiteheads
- Laser with no downtime
What happens on the day of treatment?
- Following your consultation, a medical questionnaire will be filled out which will deem whether you are suitable for treatment. 
- A series of pictures will be taken to allow us to compare the outcome of your treatments to ensure we reach your desired result. 
- Your skin will then be cleansed and the carbon mask will be applied.
- Laser treatment will then begin over the surface of the mask.
- There is no down time with the carbon laser facial so you can go back to your daily activities in no time!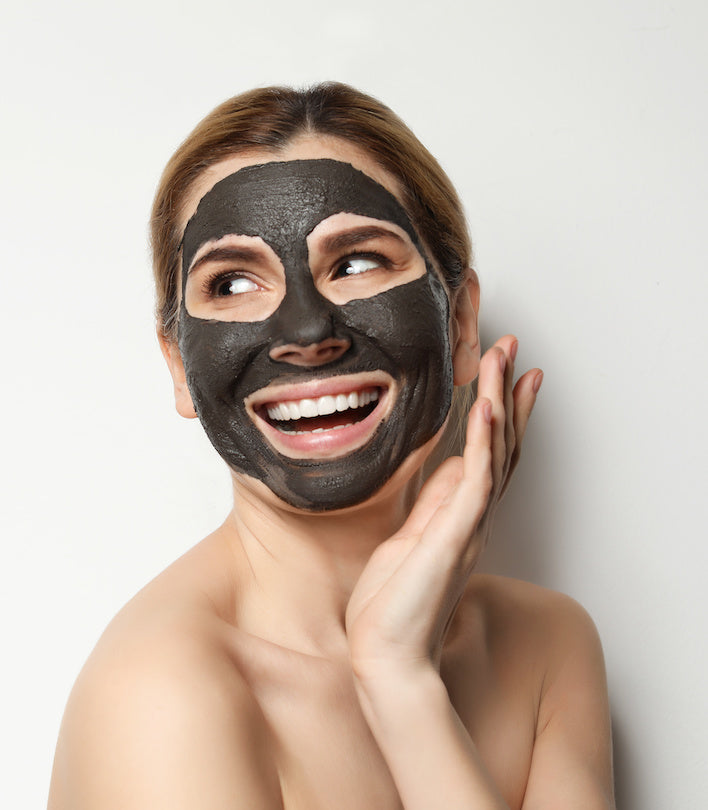 "The laser carbon peel is a superficial skin treatment reducing the appearance of enlarged pores and evening out skin tone. With the use of carbon activated powder the treatment will leave your skin clear and bright"
Dr. Rosh
As seen in
Frequently Asked Questions
The carbon laser peel treatment is a laser procedure for enhancing the skin's complexion. It helps to reduce imperfections like enlarged pores, unblocked them and tightening the skin. Great to have after Hydrafacial.

A carbon lotion is applied to the skin and allowed to dry over a period of 15 minutes, goggles are applied to protect the eyes and then a Q-Switched Nd:YAG laser is used to heat and cause an implosion of the carbon particles. As the carbon sits inside the pores it allows for the heat that is absorbed to reach deeper in to the skin than without the carbon. Following the treatment any excess carbon is removed from the skin and hydration products are applied.

No, you may feel a small amount of heat and an elastic band like sensation.

This is a one off session, but can be done every 6 weeks. It works great with Obagi skin care - pore therapy. however many clients like to add this on to a Hydrafacial to further empty and tighten enlarged pores,

Clearer skin immediately after the session. Tightened pores and less oily.

Generally a few months, but it does depend on the persons skin, how oily it is and their skin care regime, pore therapy from Obagi will help to maintain results between sessions.

Yes, if you would like minimal down time and a deeper clean than a Hydrafacial then it's a great choice. If you are looking for something more dramatic then microderm with Aqua 3 followed by laser resurfacing would be beneficial.

It normally takes around 30 minutes for a carbon facial.
Book A Consultation
If you would like to find out more about our treatments or memberships then please do not hesitate to get in touch with us. Please telephone, email or complete the form below.