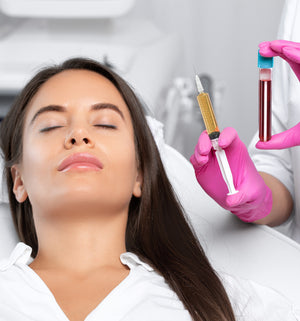 PRP
Platelet rich plasma for rejuvenation
An introduction into Platelet rich plasma
Here at KLNIK we only used the most advanced FDA approved PRP system from Angel™. One of only a few in the UK to offer this system. We have clients that travel from all over the UK to see Dr Rosh and his team of specialists due to his years of experience in this area. Also known more commonly as the Vampire treatment, this treatment works by providing Platelet Rich Plasma from your blood into the desired area. This is a revolutionary production system for concentrated platelet-rich plasma (cPRP) formulations which can be exactly tailored to the specific treatment needs of each of our patients. KLNIK is exclusively one of only three centres of excellence in the UK to offer this treatment to clients as a non-surgical treatment. It involves small injections of a concentrated solution derived from a sample of your own blood. It is a form of 'biotherapy', which utilises your own body's ability to heal and repair. For this reason, it often appeals to people who would like to avoid pharmaceutical products or who would like to add to other treatments that they may already be using. Many studies researching PRP have been published in peer reviewed journals and has been shown to be a very safe treatment and, although every patientresponse will be different, we are seeing very encouraging results at KLNIK Manchester.
Prices start from £950 for a single treatment and £2450 for a course of 3 treatments.
What is PRP?
PRP is an abbreviation for platelet rich plasma. The substance constitutes of two elements plasma, which forms the liquid proportion of blood and platelets. Platelets, identifying as a blood cell, play an important role within the body. The have to ability to clot blood and also contain growth factors which aid in cell reproduction and the regeneration of tissue. In an easier to understand formation - PRP is a reduced amount of fluid with an increased number of platelets within it. This can then be used to stimulate growth and healing in a particular place.
Prp can be used for a range of conditions. This can include:
Skin rejuvenation: In many cases PRP can be used as a skin booster. This can rehydrate the skin, reduce puffiness and smooth finer lines. 
Ance scarring treatment: By injecting the substance into the area, this can dramatically reduce the scars left by previous acne breakouts. This is found to be most effective when paired with other treatments such as laser. This will remove layers of the skin which will then be healed with the PRP formular. 
Hair thinning: PRP has also been proven useful with patients with thinning hair. Not only does the treatment reduce hair loss but stimulates growth. 
There is also information to support the idea of PRP use for post-surgical healing, Osteoarthritis and joint/muscle injuries. PRP is considered a low risk procedure with no major side effects. Due to the amount of blood taken, it is is important to make sure you have eaten to ensure adequate blood sugar levels to prevent lightheadedness. As PRP constitutes of your own cells it is very unlikely for a reaction to occur however you may experience some sort of bruising or swelling. 
What are the benefits of PRP?
PRP has a number of benifits which include and isn't limited to:
- Stimules collagen 
- Accelerated healing properties 
- Promotes growth 
- Skin booster 
- Relief from inflammation 
- Diminish acne scarring 
- Stimulate hair growth 
What happens on the day of treatment?
- Following your consultation, a medical questionnaire will be filled out which will deem whether you are suitable for treatment. 
- A series of before and after pictures will also be taken at various angles and expressions. This will therefore allow us to compare the outcome of your treatments to ensure we reach your desired result. 
- The first step of PRP is to collect your blood. This is carried out with a cannula and around 60 ml is collected. This is then spun in the angel PRP machine. This is a type of centrifuge and works by separating your blood into different elements, dependent on the molecules density. This will take around 20 minutes and will produce PRP: Platelet rich plasma and PPP: Platelet poor plasma.
- The area will then be cleansed and numbing cream applied.The PRP with then be injected into the desired area. The amount of PRP will depend on how healthy the patient is. Those who are healthier will produce a higher amount of PRP.
- The PPP will then be spread over the injection sites and left to diffuse into the skin.
- The area may feel tender after treatment for a few days post treatment however this can be managed with over the counter pain relief.
- We also ask that you refrain from any physical activity for a week and avoid extreme heat, including hot tubs and saunas. It is also advised to keep the area as clean as possible otherwise this could lead to an infection.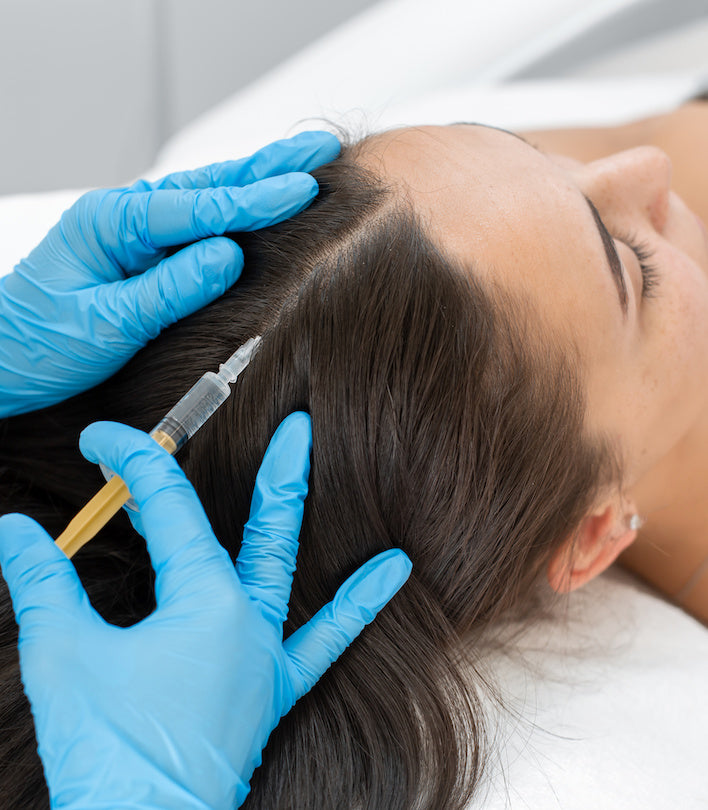 PRP treatment
Before and After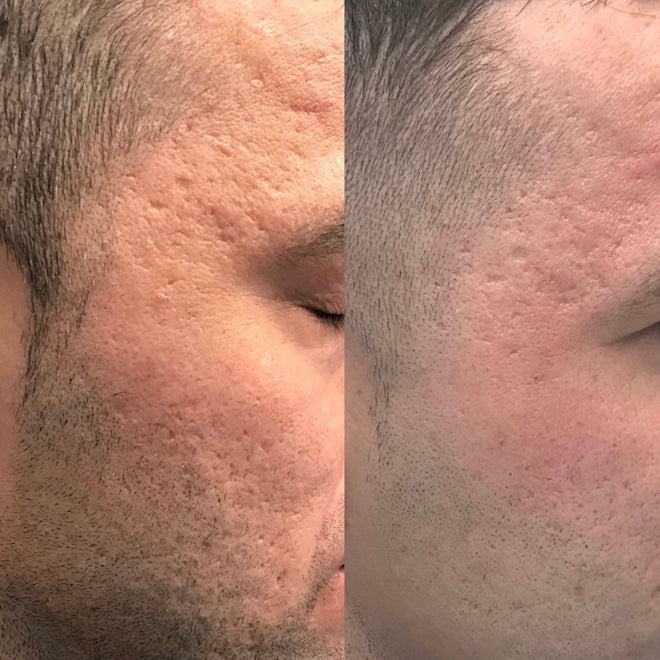 "Not all PRP is the same! Some clinics use cheap devices that lead to sub-obtimal results. Platelet rich plasma or PRP for short is a substance separated from the centrifugation of blood. This is then injected into the treated area to promote healing and growth. This has become a very popular treatment in Klnik as a revolutionary solution to a number of concerns such as acne scarring, fine lines and wound management to name a few"
Dr. Rosh
As seen in
Frequently Asked Questions
PRP are platelet-rich plasma injections using the patients own blood cells to accelerate healing in a specifc area.

PRP can be used to a number of different conditions however the most common are for skin rejuvenation and hair loss treatment.

We are one of the three clinics in the UK to perform Angel PRP. Angel PRP is consdiered the best on the country guaranteeing to provide the most effective results.

The best results of PRP are seen after a few sessions. At Klnik we offer a course of 3 sessions or you can purchase a single treatment.

It is not believed to cause much pain as when injected we use the smallest needle in the world. We also apply numbing cream to the area to reduce any discomfort you may feel.

The treatment will usually take around an hour. The centrifuge is run for 20 minutes which takes up the bulk of the procedure time.

Most people will be eligible for PRP however it is not recommended for anyone who is positive for hepatitis C, HIV or AIDS.

After PRP treatment you are advised to keep the area clean and avoid the gym for 2 hours. Due to the volume of blood taken you are also advised to not undergo any strenuous activities or heavy lifting.

You are advised to discontinue any anti-inflammatory drugs a week before the procedure. It is also important to lead a healthy life style as the healthier you are the more PRP will be collected from your sample.
Book A Consultation
If you would like to find out more about our treatments or memberships then please do not hesitate to get in touch with us. Please telephone, email or complete the form below.